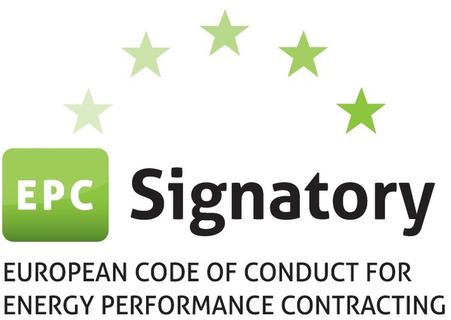 Sign up to the European Code of Conduct for Energy Performance Contracting.
The European Code of Conduct for Energy Performance Contracting gives a short set of mutually agreed best practice principles and values for high quality delivery of energy performance contracts. Its objective is to increase the transparency and trustworthiness of Energy Performance Contracting (EPC) markets throughout Europe leading to higher EPC demand.
To date the Code has been endorsed and signed by over 200 EPC Providers, Facilitators and Associations. British Gas, Engie, Skanska, Ameresco, Ener-G, BAM-FM are amongst many organisations that have supported the Code in the UK.
To support this initiative we are encouraging organisations to become signatories of the European Code of Conduct for EPC and demonstrate their commitment to developing trust and partnership in EPC projects, as well as aligning with a quality level that is becoming recognised across Europe.
The Code of Conduct is a short 5-page not legally binding document and can be viewed here.
To become a signatory, download the signing form for EPC Provider, Association of EPC Providers or Facilitator and other signatories; and send it to the UK Code Administrator Jana Skodlova at Energy Managers Associations, [email protected], according to the instructions given in the form.