The WINNERS of the EMA Energy Management Awards 2023 are:
Energy Manager 2023
Markus Binder – Director Energy – Magna International
Markus Binder embodies Magna's commitment to advance mobility, responsibly. As the Energy Director for the mobility technology company, Markus works with a global team to build a more sustainable future. This collaborative effort is driving Magna toward its climate goals with technologies, systems and concepts to enable cleaner and safer mobility for everyone and everything.
Markus's dedication to seeking a sustainable planet was sparked when he worked with Magna's Graz facility-planning team to plan and construct energy-saving projects. The first project involved installing new efficient pumps for heating optimisation and it was inspiring. Further projects followed which resulted in the developing and implementing of energy management strategies, reducing energy consumption, greenhouse gas emissions and managing energy costs. His path as an expert in energy efficiency in the automotive industry includes earning a master's degree in renewable energy systems in 2017 from the University of Applied Sciences Burgenland in Austria.
Markus brings a passion for relentless self-improvement to life, from learning languages to achieving milestones in running. This approach extends to helping Magna achieve its most ambitious environmental commitment to date: to achieve net-zero emissions status by 2050, an important step in fighting the climate crisis.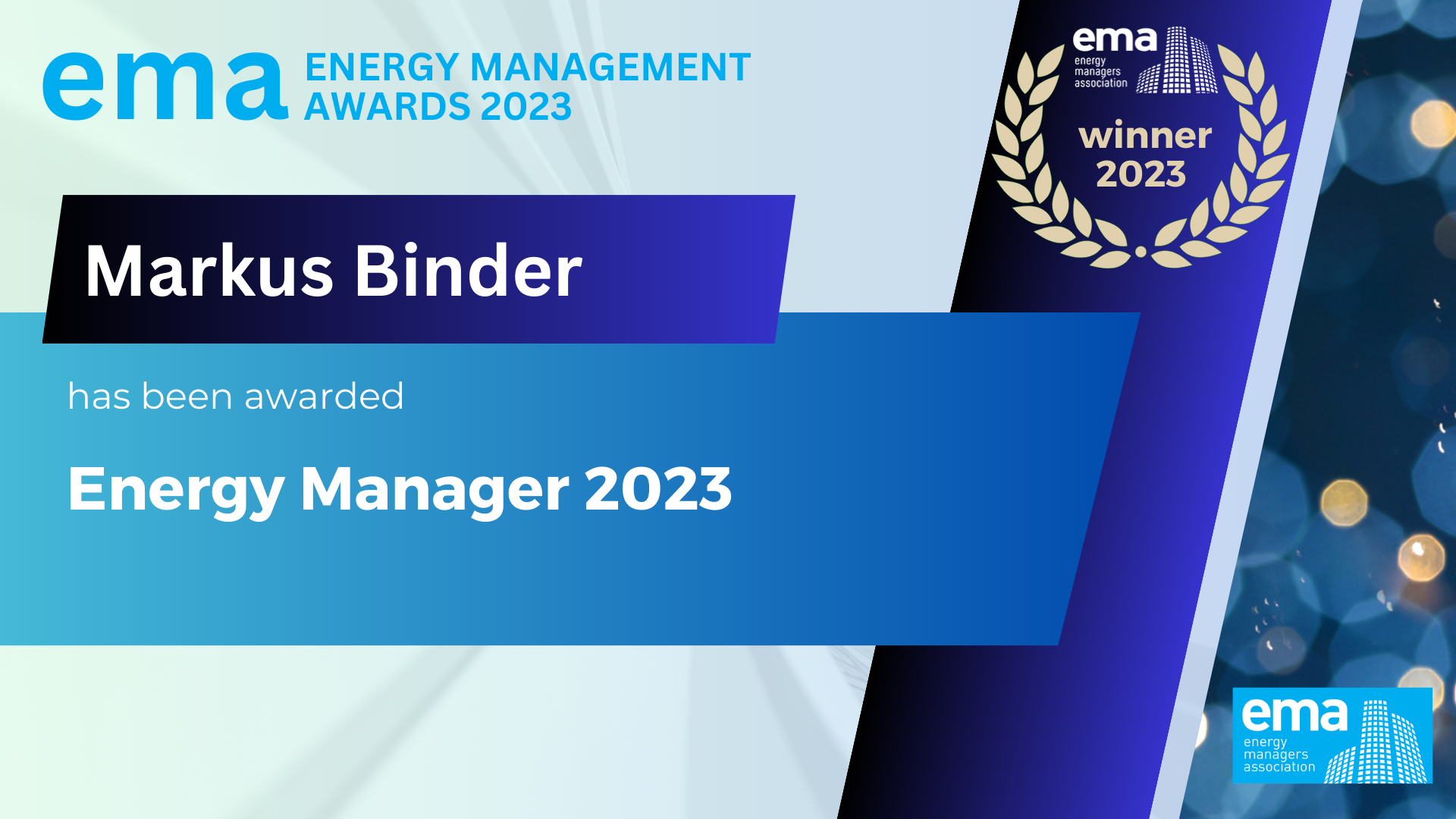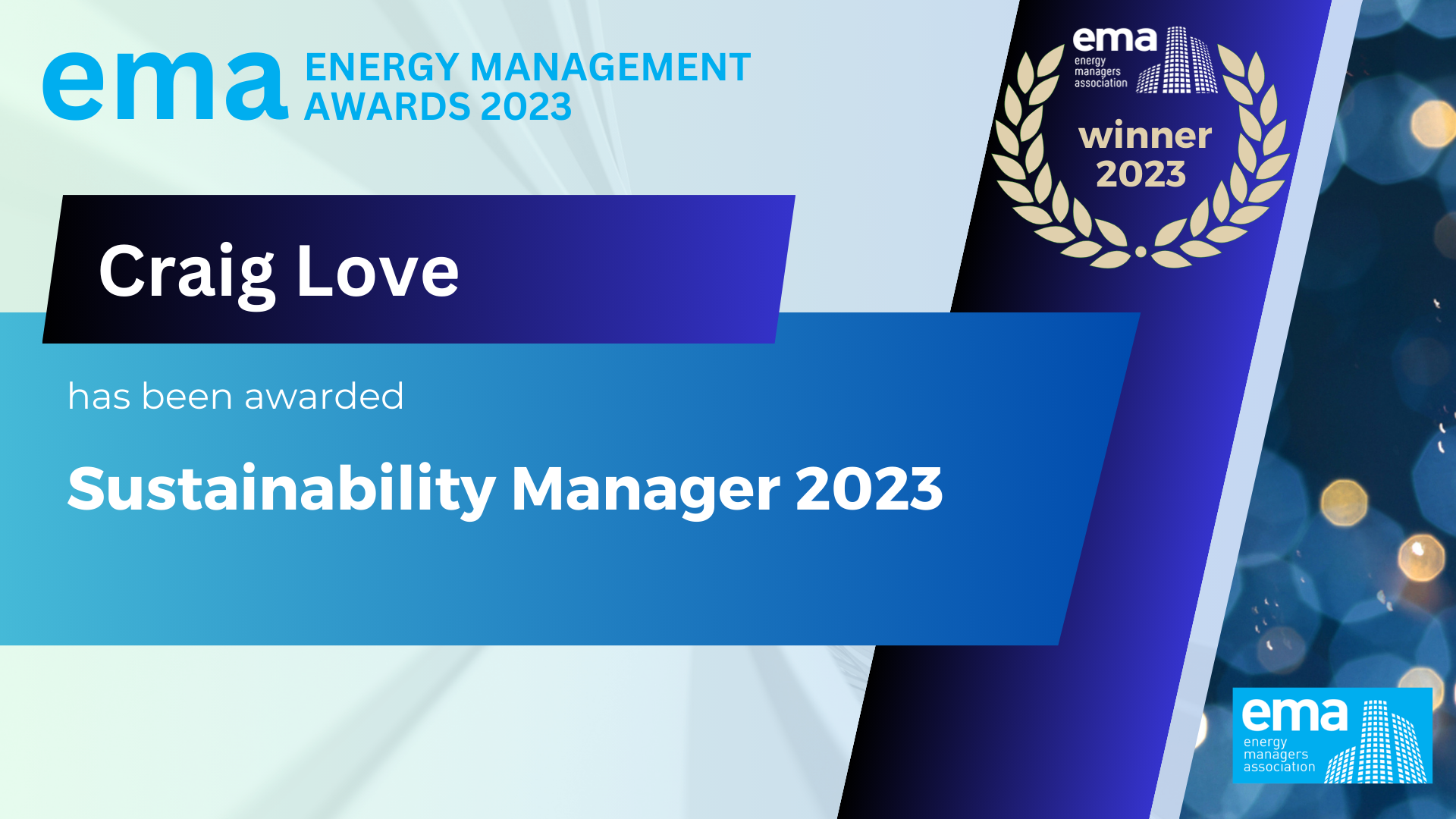 Sustainability Manager 2023
Craig Love - Associate Director, Climate Impact - Scottish National Investment Bank
Scottish National Investment Bank ('the Bank') was established in 2020 by Scottish Ministers. All of their investments must meet the aims of at least one of their three key missions – to support Scotland on its journey to net zero, to improve places and communities, or to harness innovation.
Craig is the Associate Director of Climate Impact in the Bank's Impact team. The Impact team work closely with investment teams, aiding them in the measuring and management of the social and environmental impact of the companies into which the Bank invests.
In his role, Craig leads on defining the Bank's Net Zero ambitions and wider environmental reporting, in relation to both operational and investment activities, while supporting the wider work of the Impact team. This includes coordinating the Bank's efforts to define and deliver a climate strategy that will allow the Bank to support the transition to Net Zero at a portfolio level, and to drive progress towards Net Zero corporate structure and ambition. He provides guidance and input into investment due diligence and portfolio management and has developed a reporting platform which can support investees on their own carbon management journey.
Craig also leads on the evaluation and reporting of the Bank's corporate environmental and climate performance, including statutory requirements, the preparation of Climate Risk Assessments, and Task Force on Climate-Related Financial Disclosures reporting.
Young Energy Management Professional 2023
Jason Joseph - Sustainability Engineer – CBRE
Jason moved into his current Sustainability and Energy Management role in 2022 from an engineering and BMS controls background. He is responsible for AstraZeneca's R&D sites in UK South and his role involves performing energy audits, data analysis, optimisations, reporting and assessments with focus on energy, water and carbon savings.
Since joining the company, he has been involved in embedding energy management and control strategies at client's sites and is actively engaged in the delivery of energy and carbon management projects as part of a wider team.
Jason holds a Diploma in Electrical Engineering Technology from the San Fernando Technical Institute in Trinidad and Tobago. He started his career in the oil and gas industry in the Caribbean in 2003, eventually moving onto the waste-to-power industry in the UK in 2017. This engineering and controls background has been a vital key to Jason's role in sustainability and continues to prove an asset.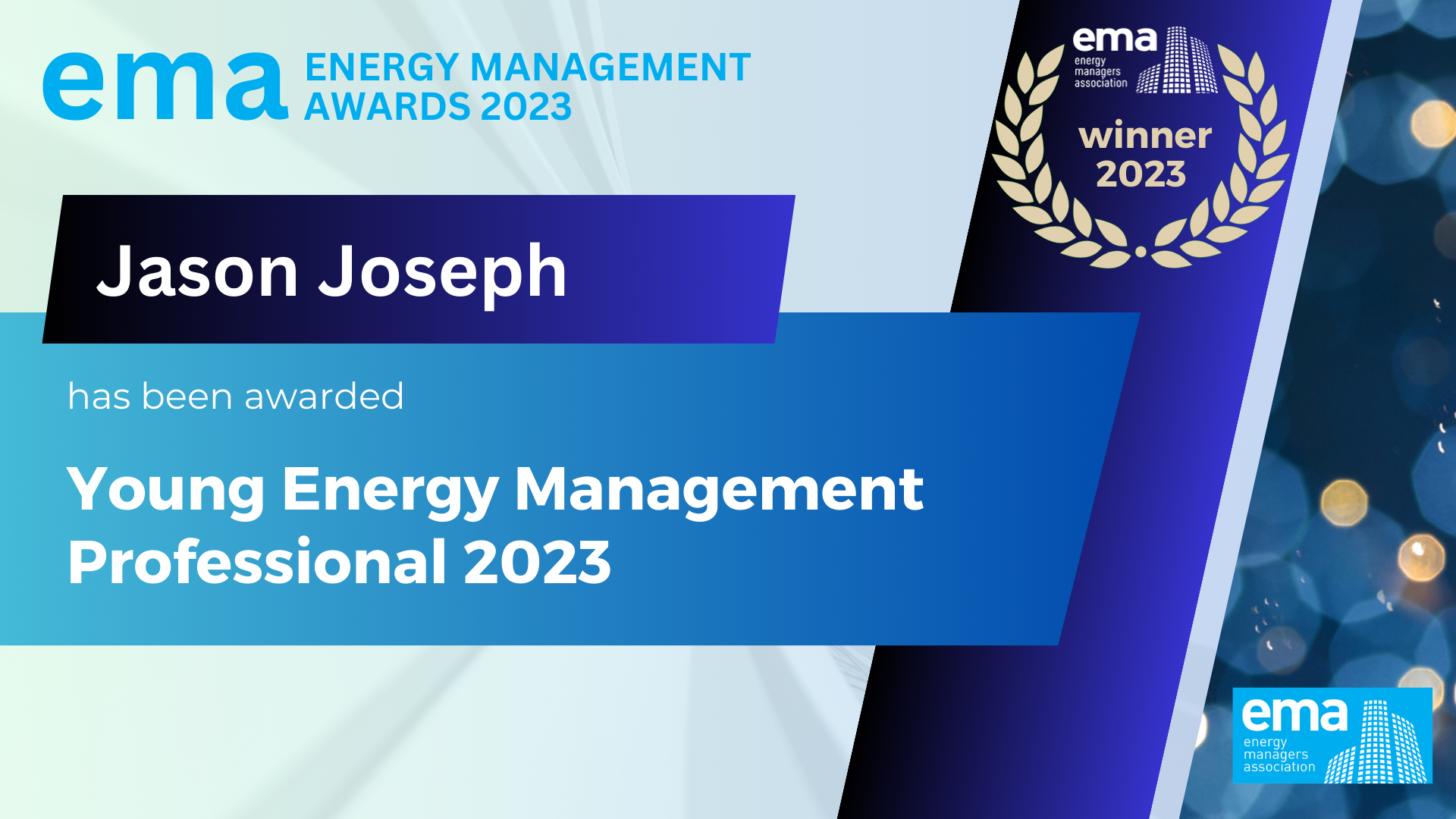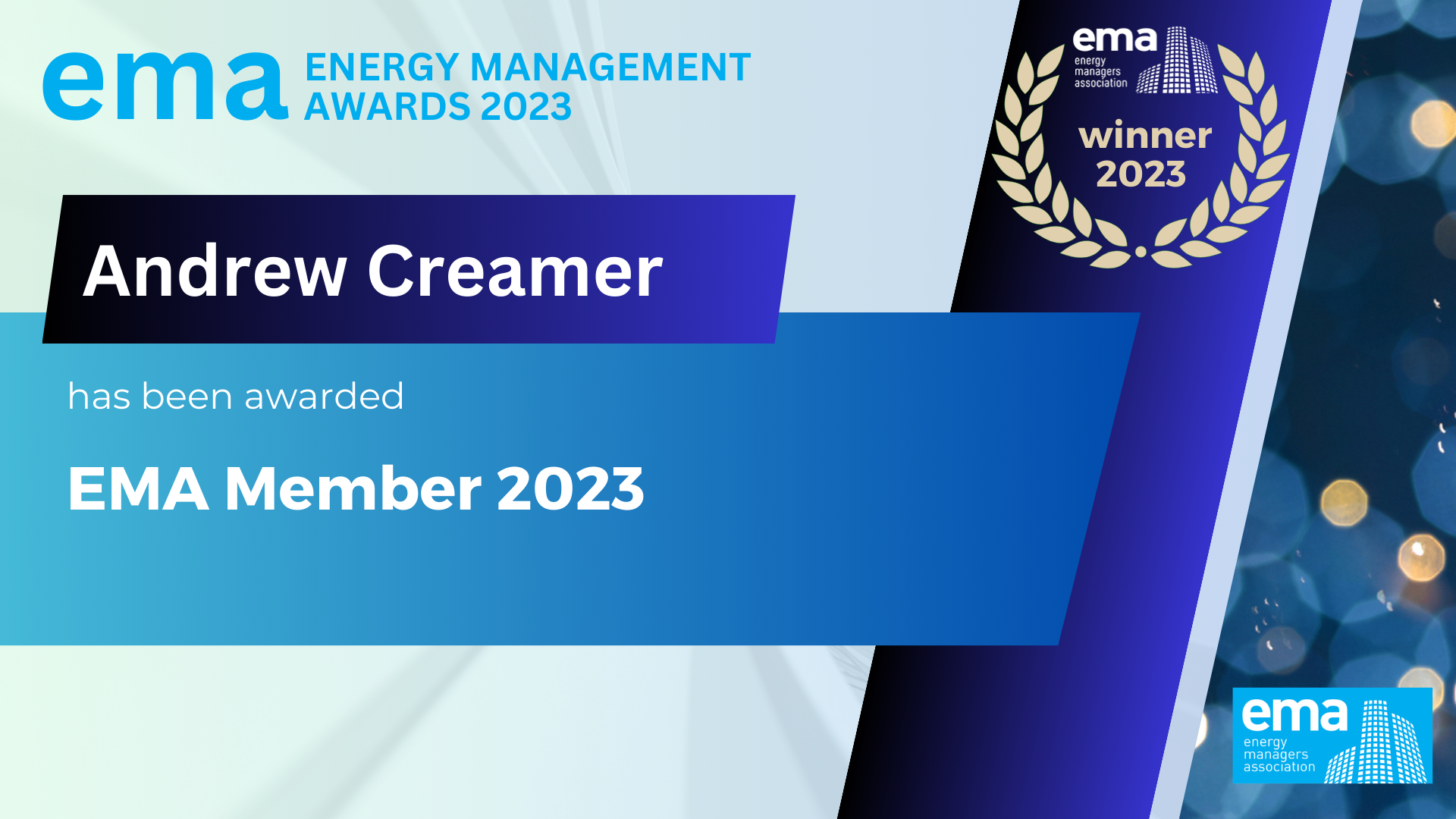 EMA Member 2023
Andrew Creamer - Energy & Water Manager - AstraZeneca / CBRE
Like many in energy management, Andy fell into this line of work by chance around 9 years ago. Following leaving school, he worked for BT as an engineer for 20+ years. Andy worked on all technologies new and old and his final 10 years at BT were more in Customer Service, Client Management and Technical Support, Project Management, Helpdesk and Diagnostics. All contributing to a unique set of skills. He then moved into a role of an Energy Manager for a commercial landlord with several hundred properties to manage. Programmes included scheduling plant, controls, billing and historic audits.
Energy Management Team 2023 - Private Sector
The Energy Management Team at John Lewis Partnership
The John Lewis Partnership has ambitious targets in relation to energy and carbon reduction. With a hybrid energy management team, with both internal Partners and external consultants, meaningful reductions have already been realised through a collaborative, innovative and dynamic approach.
The Partnership has two key targets which are core to everything the team does:
An absolute energy reduction within the Partnership's physical estate of 25% by 2028 from a 2018 baseline.

Science Based Target (SBT) carbon reduction in Scope 1 & 2 emissions by 60% by 2030, and 90% by 2035.
Much of the work the team undertakes is to support the delivery of these two targets whilst maintaining a healthy balance between energy efficiency, carbon reduction and a pleasant environment for both Partners and customers.
The internal team sets the strategy, and manages the overarching coordination of energy systems and data management. With roles covering Energy, Innovation, Sustainability, and Utility Procurement; along with other disciplines which support project delivery. Whilst the valued external consultants support with troubleshooting, identifying opportunities, and ESOS compliance.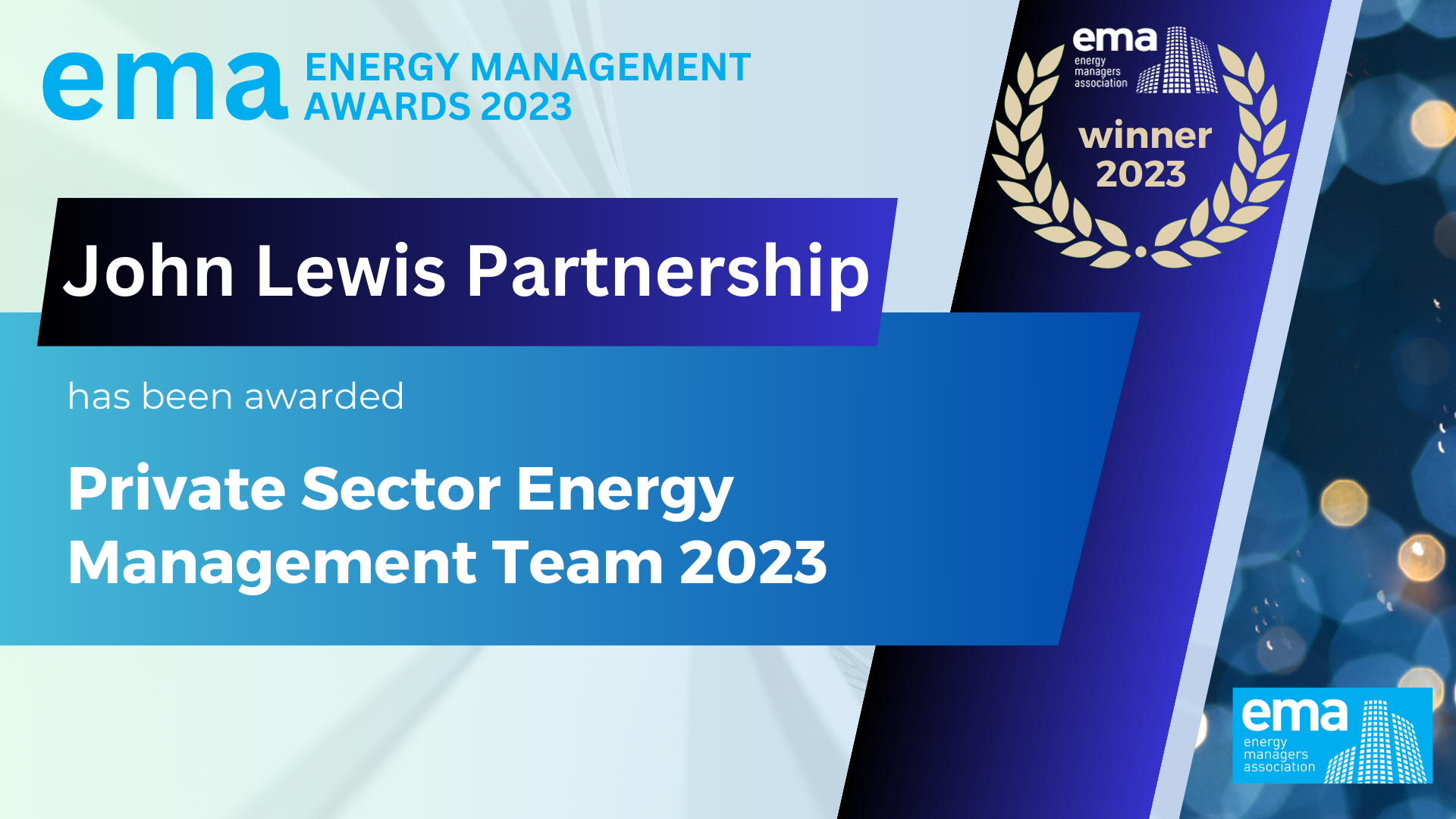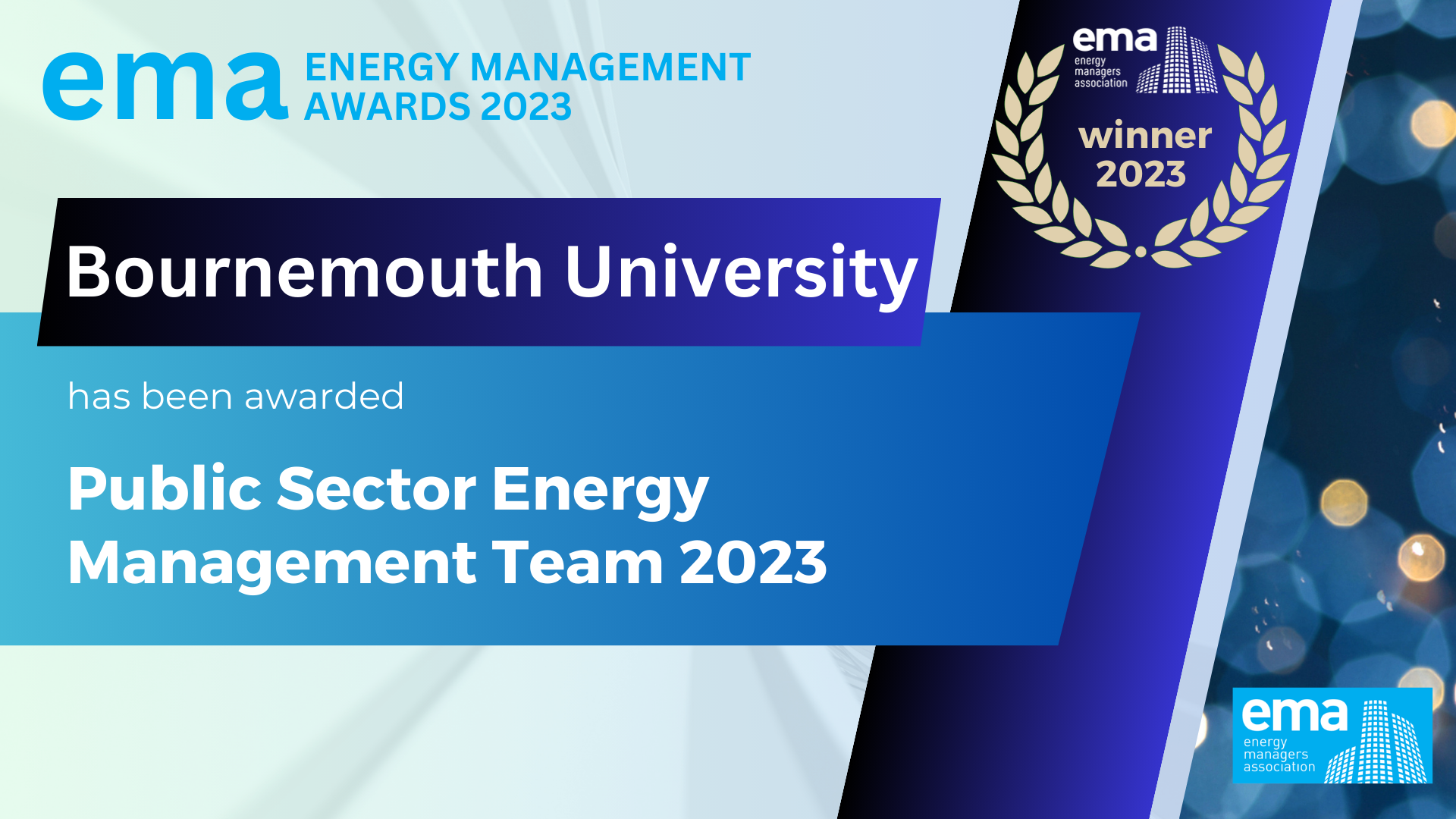 Energy Management Team 2023 - Public Sector
The Sustainability Team at Bournemouth University
The Bournemouth University (BU) energy team provides a strong foundation of systems, processes and data that enables measurements and improvements of the organisation's energy performance and target projects to work towards net zero. The nine-person sustainability team includes four members who are working on energy and the team further extends to the capital development team who have become experts in renewable technology, and the maintenance team who have been delivering LED upgrades and optimisations for many years now.
The team's work is supported at senior level and is united around the BU's institutional goal of net zero by 2030/31 with a Sustainability Committee and EcoCampus certified Energy and Environmental Management System used to reach stakeholders across BU.
The investments BU have made in renewables and energy efficiency since 2012 now save the organisation around £200k in operating costs and generated over 15% of onsite heat and 6% of electricity needs last year alone. The organisation has been successful with the public sector Low Carbon Skills Fund and continues to develop their Heat Decarbonisation Plan with the first full building transition from fossil fuel gas to air source heat pumps starting in October 2023.
Students form an important stakeholder group for the team and are involved and encouraged to take part wherever possible, whether its engineering students visiting the plant rooms or MBA students using the campus as a living lab to test their skills and come up with ideas to help reach net zero. The team is keen to learn and share so feel free to get in touch!
Net Zero Strategy 2023
Mitie - Plan Zero
Mitie's Plan Zero initiative launched in 2020 and is our strategy for reducing carbon. It focuses on eliminating carbon emissions from power and transport by decarbonising our fleet, optimising our buildings, increasing onsite biodiversity, and eradicating non-sustainable waste by adopting a circular economy. Plan Zero follows a Do, Lead, Deliver approach; do it for ourselves, lead the industry, and deliver decarbonisation for customers.
Our Plan Zero initiative commits Mitie to net zero operational emissions by 2025, and net zero non-operational emissions by 2035. We received validation from the Science Based Target initiative for both near-term, long-term, and net-zero targets. We identified that 98% of our emissions are attributed to our fleet, so launched an electric vehicle (EV) transition strategy in 2018 and now have one of the largest EV fleets in the UK with over 3,800 in service, supported 2,800+ EV Charge Points in colleagues' homes, Mitie offices, and client sites. In addition, we have fully decarbonised nine sites in our estate, and plan to decarbonise a further five by March 2024. We are not stopping with our own operations. Mitie Plan Zero - Decarbonisation, Delivered™ is the next step in our strategy to decarbonise the places where Britain works. Following the success of our own Plan Zero initiative with our 'Do, Lead, Deliver' ethos, Decarbonisation Delivered™ looks to amplify this provision to support our customers, suppliers, and the wider industry.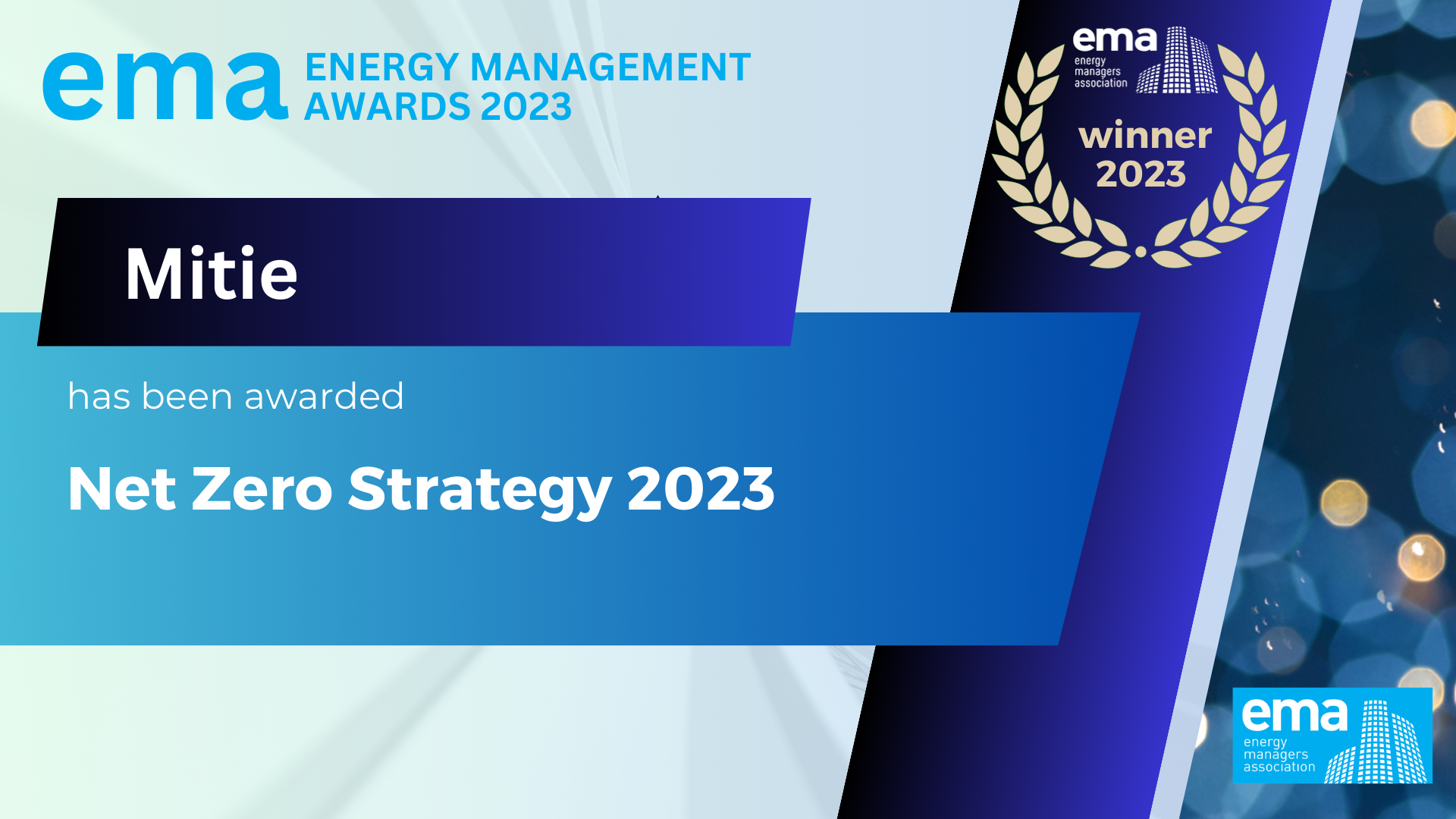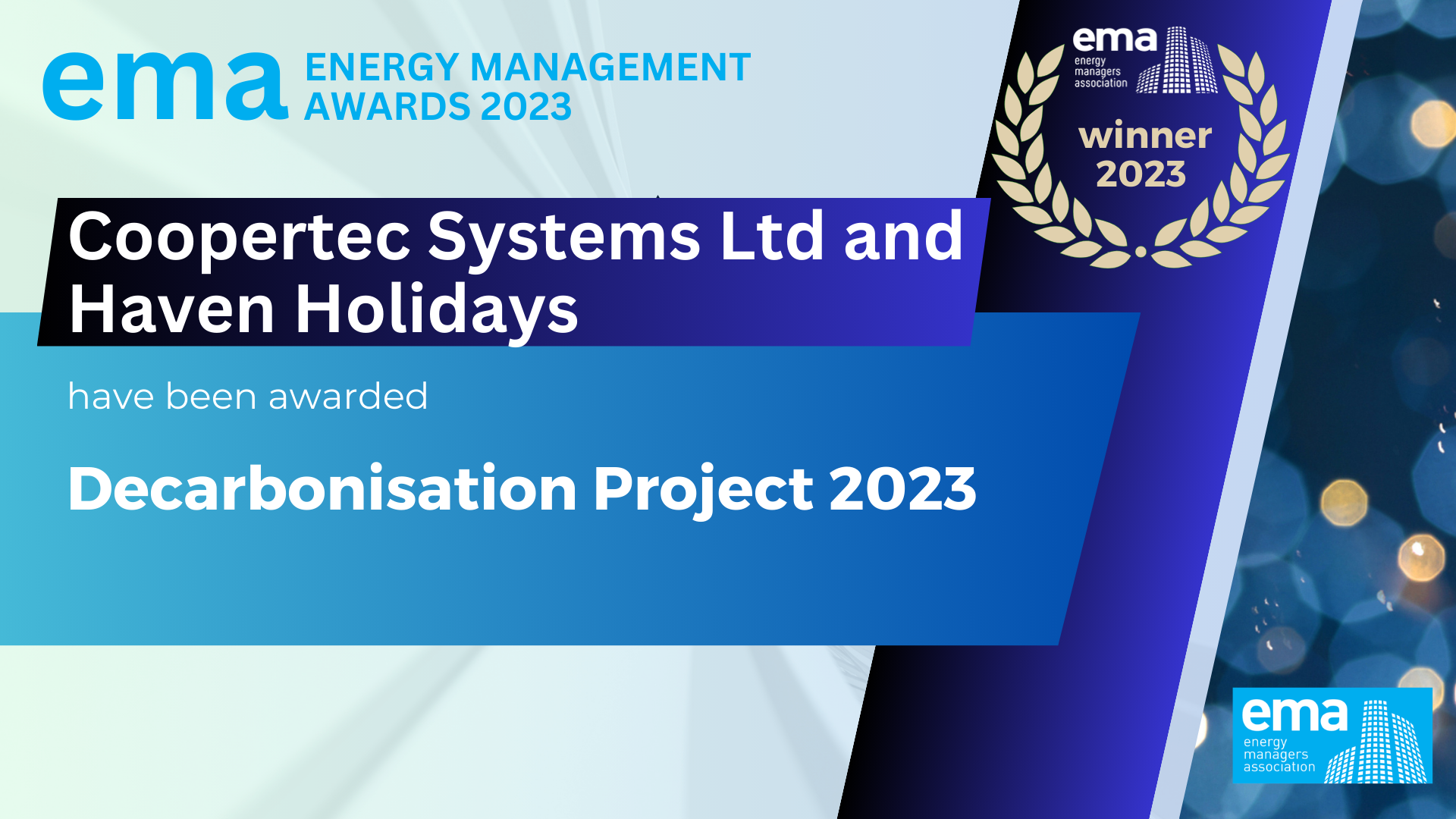 Decarbonisation Project 2023
Coopertec Systems Ltd and Haven Holidays - BMS and Refrigeration Remote Monitoring Project
Haven Holidays operates 38 large holiday parks around the coast of the UK, employing 12,000 team members and operating around 38,000 caravans and holiday homes. In cooperation with Coopertec, a specialist energy and sustainability consultancy business with expertise in Refrigeration, Heat Pumps and BMS, the project implementation phase ran from February to August 2023. The joint project achieved to date savings of 432 tonnes of carbon.
The project's core objective was to deliver carbon and energy savings by improving the control technology for essential assets; enabling remote monitoring, fault analysis, and performance enhancement. This initiative encompassed upgrades to Building Management Systems (BMS) and refrigeration systems.
For BMS, innovative control equipment was deployed in various sectors, including swimming pool heating systems, combined heat and power plant (CHP), along with space heating and cooling. The project prioritised enhancing comfort and energy efficiency through re-commissioning, set point refinements, and the implementation of time-based controls.
Simultaneously, the refrigeration systems underwent upgrades, incorporating new control equipment. Fabric enhancements included the introduction of night blinds, shelf-edge technology, EC fan enhancements, and energy-efficient LED lighting.
Energy Efficiency Project 2023
Coventry City Council - Central Library Project
The two-year project was a highly complex and wide-ranging undertaking which included energy demand reductions from improvements to the building fabric, lighting systems, replacement of gas heating systems, the addition of battery storage to improve resilience and lessen impact on the network, addition of EV chargers to enable associated fleet decarbonisation and the deployment of Solar PV to increase renewable energy provision.
The heritage restrictions on the Grade II listed building meant the team had to find innovative ways to the required whole building approach which could improve energy efficiency and remove reliance on fossil fuel use while preserving the building's features. The project was delivered in three phases and funding for the work was secured through the Public Sector Decarbonisation Scheme (PSDS). The changes are set to create an annual saving of £60,000 for the first year alone.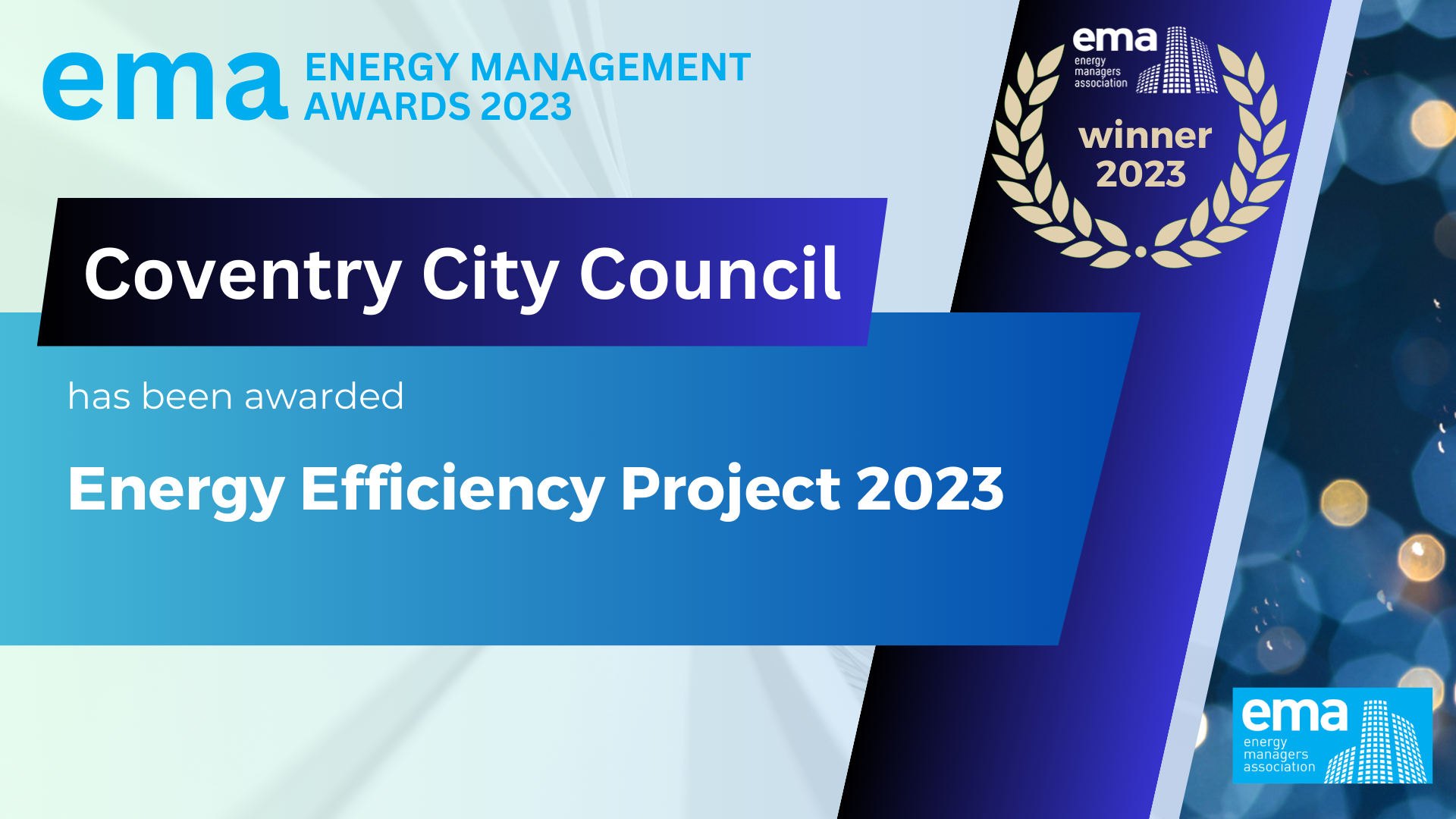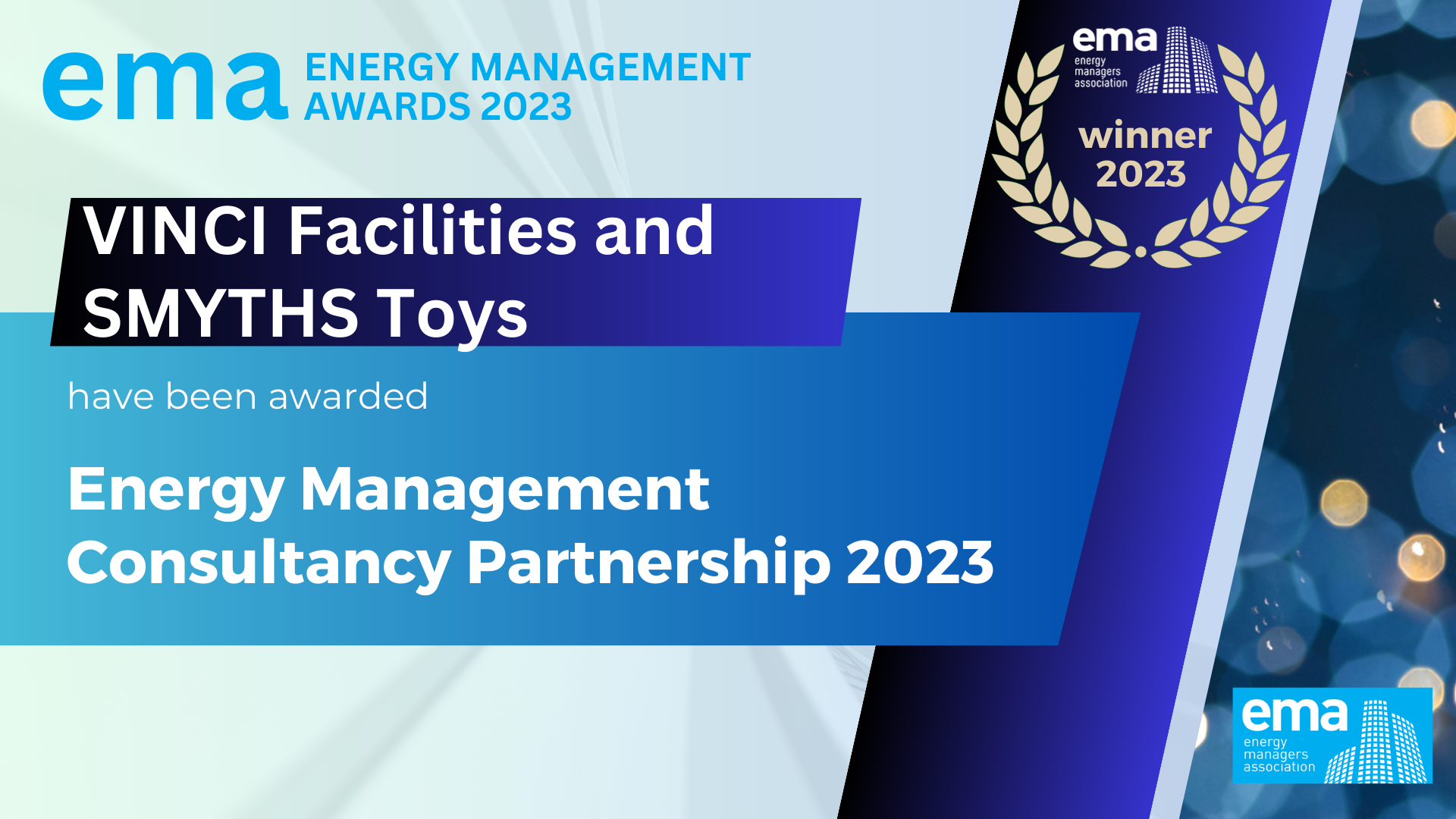 Energy Management Consultancy Partnership 2023
VINCI Facilities and SMYTHS Toys
The 2023 Highly Commended in the following categories are:
Energy Management Team - Private sector: 
The Energy Management Team – Electricity North West Limited
Energy Management Team - Private sector: 
The Energy Management Team – ISS Facilities Services
Net Zero Strategy: 
GRAHAM - Environmental Sustainability Strategy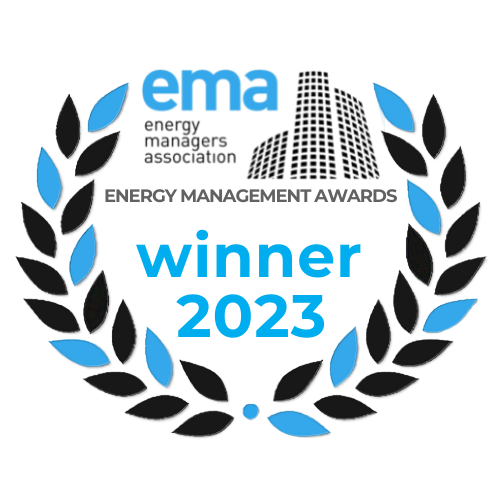 The 2023 Winners and Highly commended demonstrated skills, understanding, dedication, resilience and can-do attitude. We hope that the Awards will help winners to highlight their achievements and credentials in their organisations and the wider industry.
Congratulations to all our 2023 Winners and Highly Commended.