The WINNERS of the EMA Energy Management Awards 2021 are:
Energy Manager 2021 - Private Sector
Foon Tse - Technical Services Manager - BNP PRE Real Estate
Foon has more than 30 years of experience in the management of technical and energy delivery in corporate real estate. He was a National Energy Manager for Land Securities Plc and was responsible for the delivery of an integrated sustainability strategy for Land Securities Property Portfolio. He worked with variety of investment fund representatives, and occupier clients to manage compliance, optimise sustainability performance and promote initiatives. His work was built upon wider business strategy and harnessed key opportunities that identified, developed, and promoted additional value-add.
Major Building asset for BNP Paribas thrives its success in consistently delivering unprecedented level of service to its primary stakeholders, whilst welcoming the relentless encouragement to seek new opportunities to create add value aspect – and one such building is Cannon Bridge Properties. Situated at a heart of City of London, it caters for prominent prime occupiers who required a right intervention for an enabler who could make an impact in Energy Management. Foon with his long-standing experience and technical ability created an Energy Strategy for the building in 2017. The underlining principle of the strategy was 'collaboration' and 'simplicity' with dividend returns on reducing usage of 1,9MWH in service charge electricity saving £212K.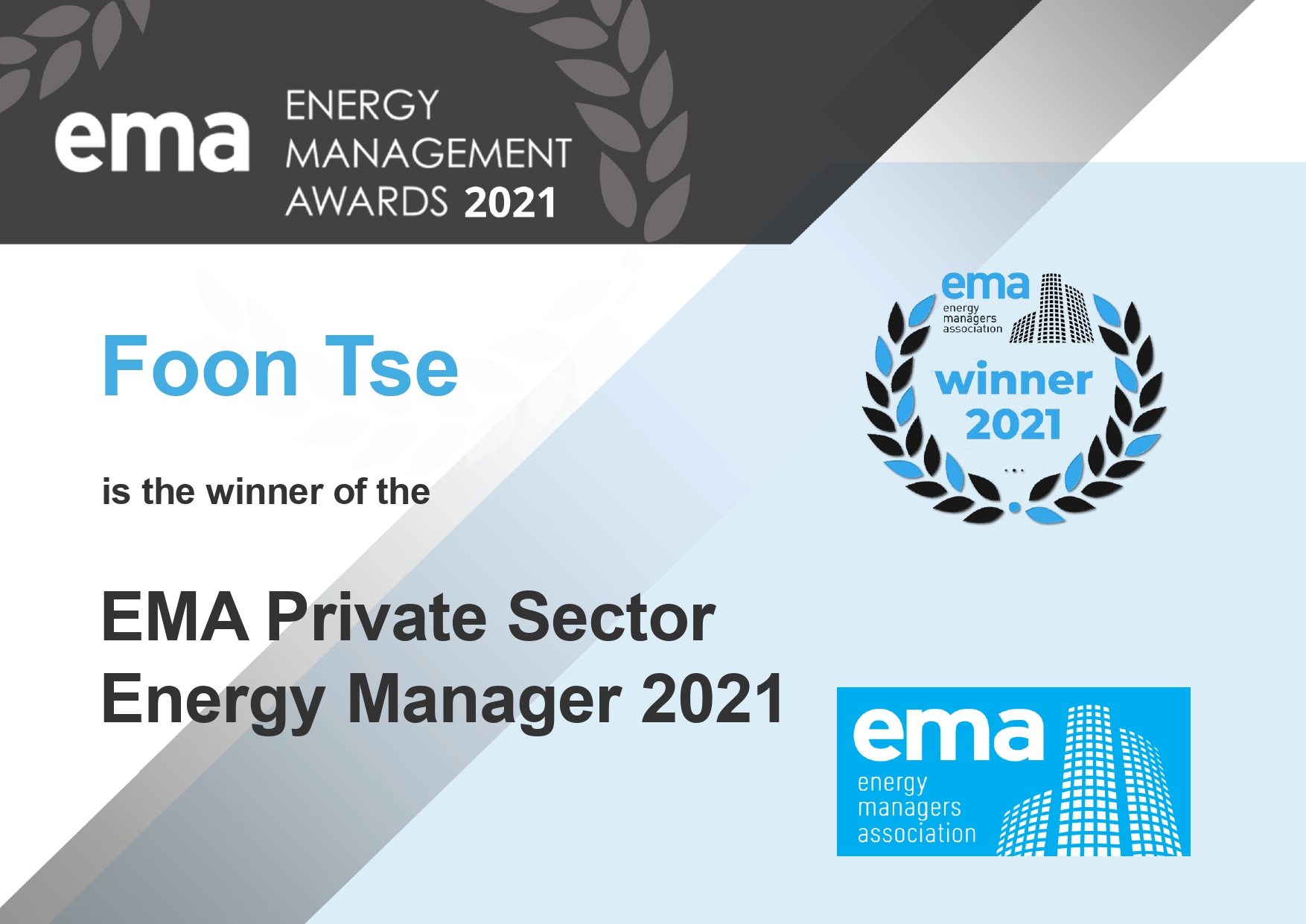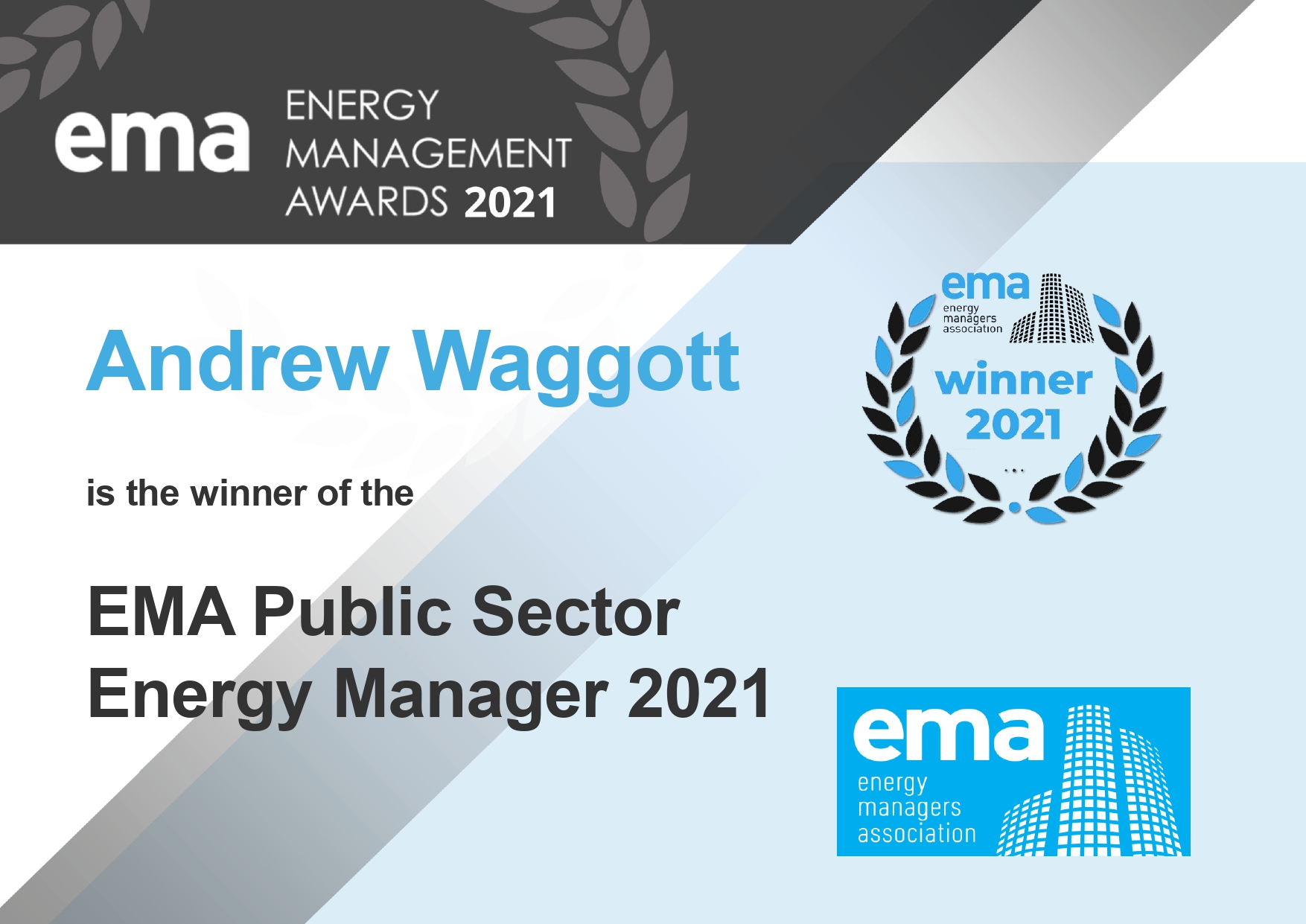 Energy Manager 2021 - Public Sector
Andrew Waggott – Energy Services Team Manager - Portsmouth City Council
Andrew has over 9  years' experience of working in the energy management industry within a public sector organisation. Since 2016, he manages the Energy Services Team at Portsmouth City Council responsible for all energy services, which include energy efficiency and micro-generation capital projects, procurement and management of utilities and fuel poverty mitigation programmes across the Council's extensive and varied housing and corporate property portfolio. Under Andrew's management, the team has grown four-fold; expanding the scope and scale of their services and creating a graduate programme with the aim of training the next generation of energy management professionals. 
Sustainability Manager 2021
Danielle Taylor - Sustainability Manager - South Yorkshire Police
Danielle has worked in the field of sustainability for 17 years and has been in post as the Sustainability Manager at South Yorkshire Police since 2010. Her experience, networks and qualifications, coupled with her desire to achieve positive outcomes have enabled her to engage and inspire colleagues and partners to commit to targets, take action and make lasting changes. Danielle is passionate about empowering people to understand sustainability, make changes, embrace innovation and celebrate successes. She developed and launched South Yorkshire Police's current sustainability strategy, which is aligned to the UN Sustainable Development Goals, and is both prestigious and well known throughout the police force. The strategy's overarching ambition is to embed sustainability "in all that we do" and Danielle and her team are always working to ensure sustainability considerations permeate all areas of force activity. Danielle enjoys working nationally with other police and emergency service organisations, sharing best practice and working together to develop and deliver programmes to affect positive change.
Previously, Danielle worked as a senior environmental consultant leading a department within a multidisciplinary consultancy. She specialised in sustainable construction, developing and delivering training courses for the Construction Industry Training Board.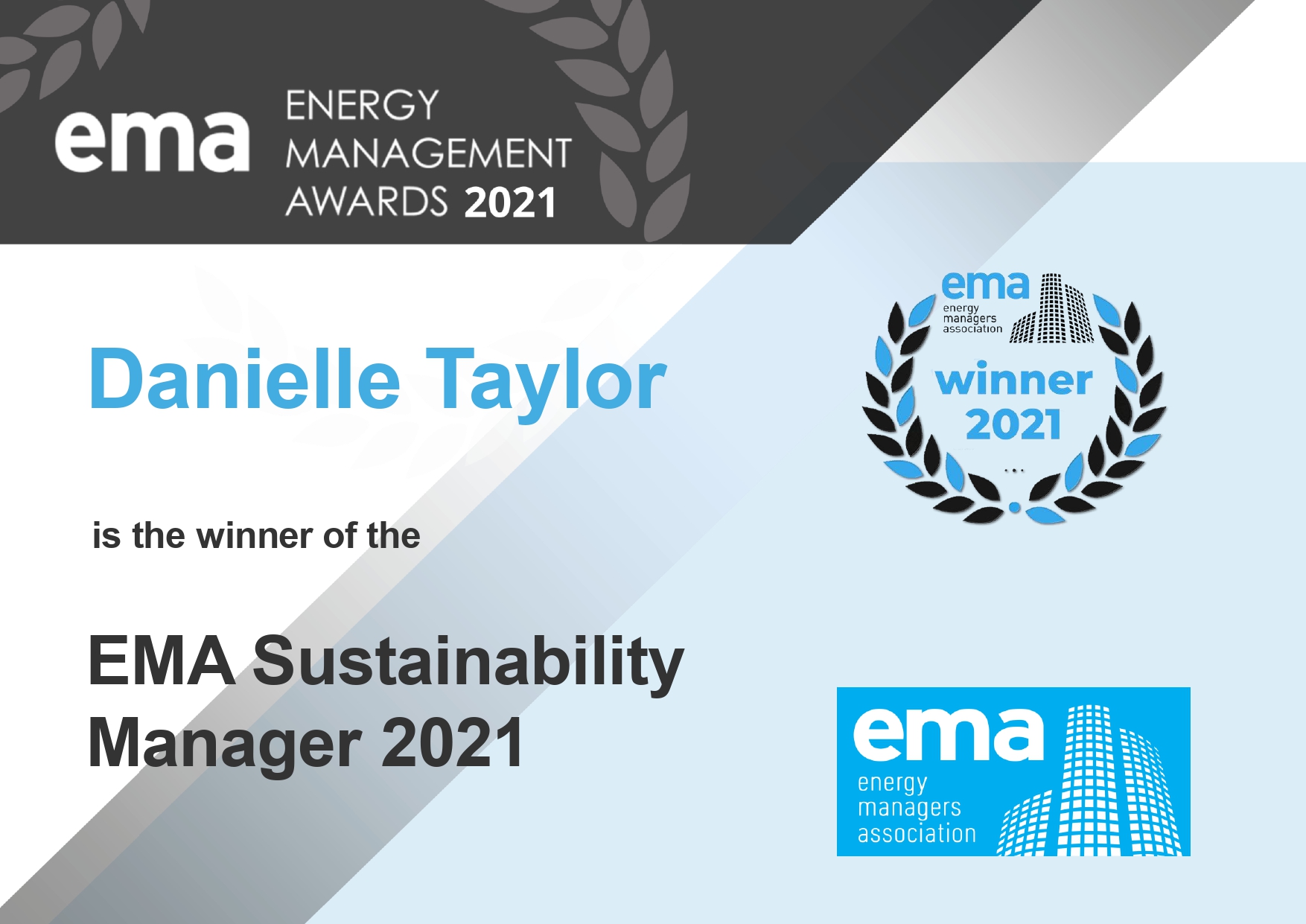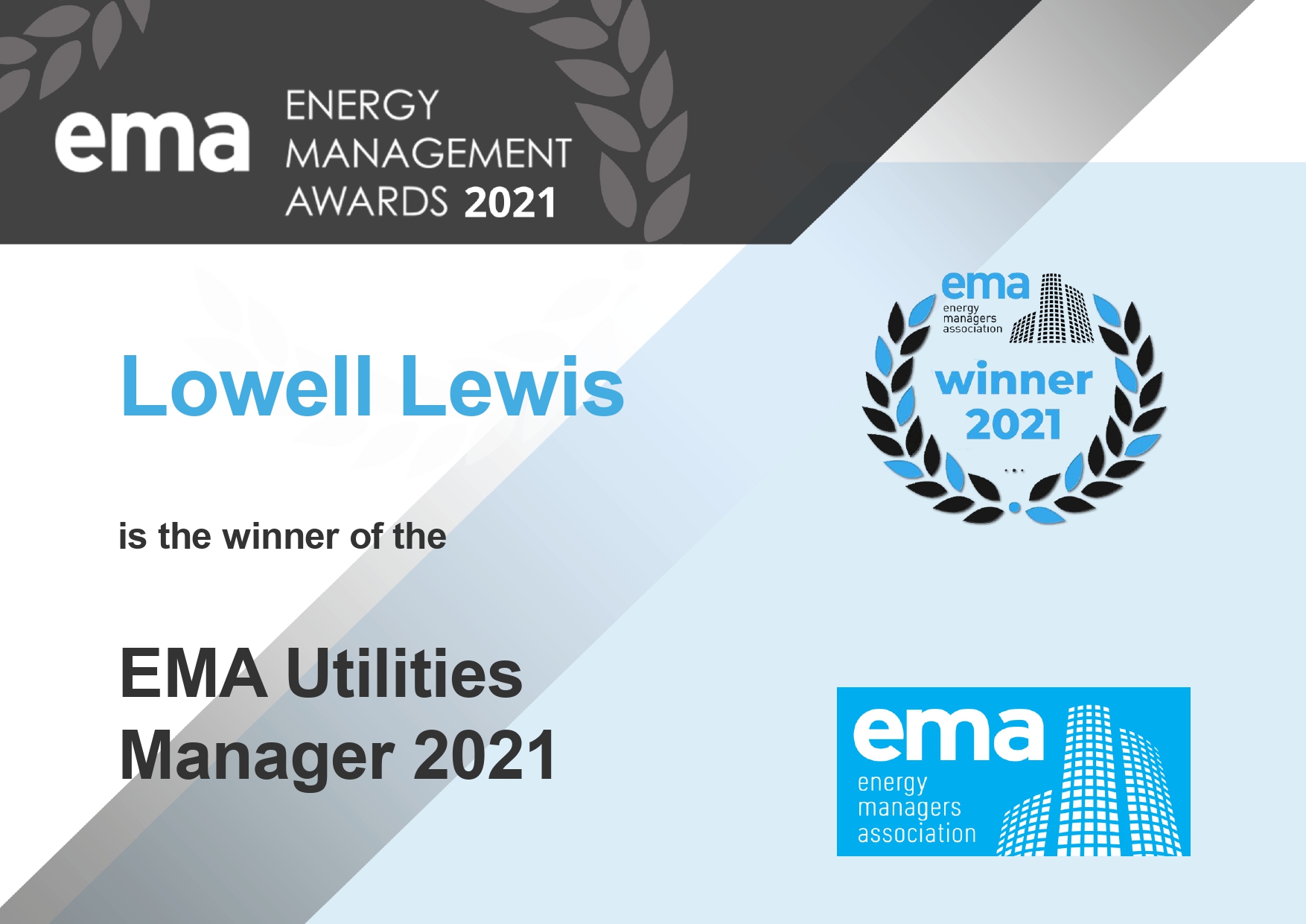 Utilities Manager 2021
Lowell Lewis - Safety, Health, Environment and Quality Manager - Coventry City Council
Dr. Lowell Lewis is a Sustainability and Energy Management professional with a background in Chemical Engineering and wide-ranging experience coming from roles in brownfield regeneration, sustainability research and energy management over the past 15 years.
Having previously worked for central government and university clients, he has been the energy management lead for Coventry City Council since 2018. He is responsible for managing the utilities for corporate property and Council operations. This includes all aspects from advising on procurement, day-to-day management of the utility contracts including validation and dispute resolution, as well as budgeting and reporting on consumption and spend. Key achievements include the roll out of AMR across the estate, automation and streamlining of payment processes to improve team productivity and recovery of significant incorrect charges.
This work has provided greater insight into the Council's utility use and solid foundations needed for successful bids to ERDF and PSDS, securing over £9m of funding in 2021 to deliver energy efficiency projects on the Council's estate. This success has led to Lowell now leading a newly created Energy Services team, to deliver energy efficiency and renewable generation projects for the Council and to support others with their energy management and decarbonisation challenges.
EMA Member 2021
Kirsty Rice - Environmental Lead Manager - JTI UK
Kirsty Rice is the Environmental Lead for JTI UK and is responsible for helping the business develop and deliver against its Environmental Plan 2030 which looks at five focus areas of emissions, energy, waste, water and stakeholder engagement. Kirsty has significant experience in the field of sustainability and was previously the principal energy adviser for the UK's largest conservation charity and property owner, the National Trust. In addition to being a full EMA member, she is an accredited CIBSE Low Carbon Assessor, CIBSE ESOS Assessor, IEMA Internal Auditor and PRINCE2 Project Manager.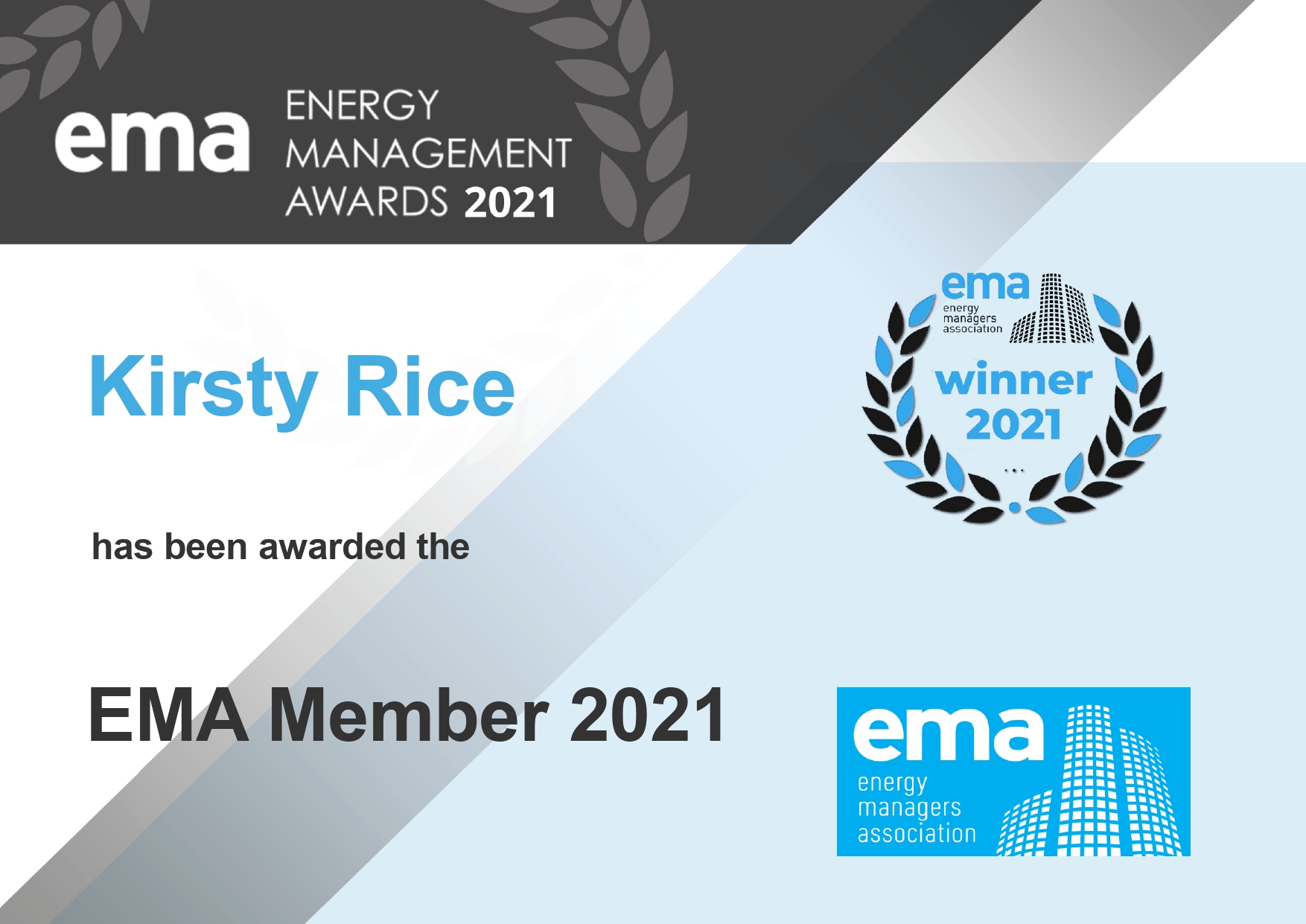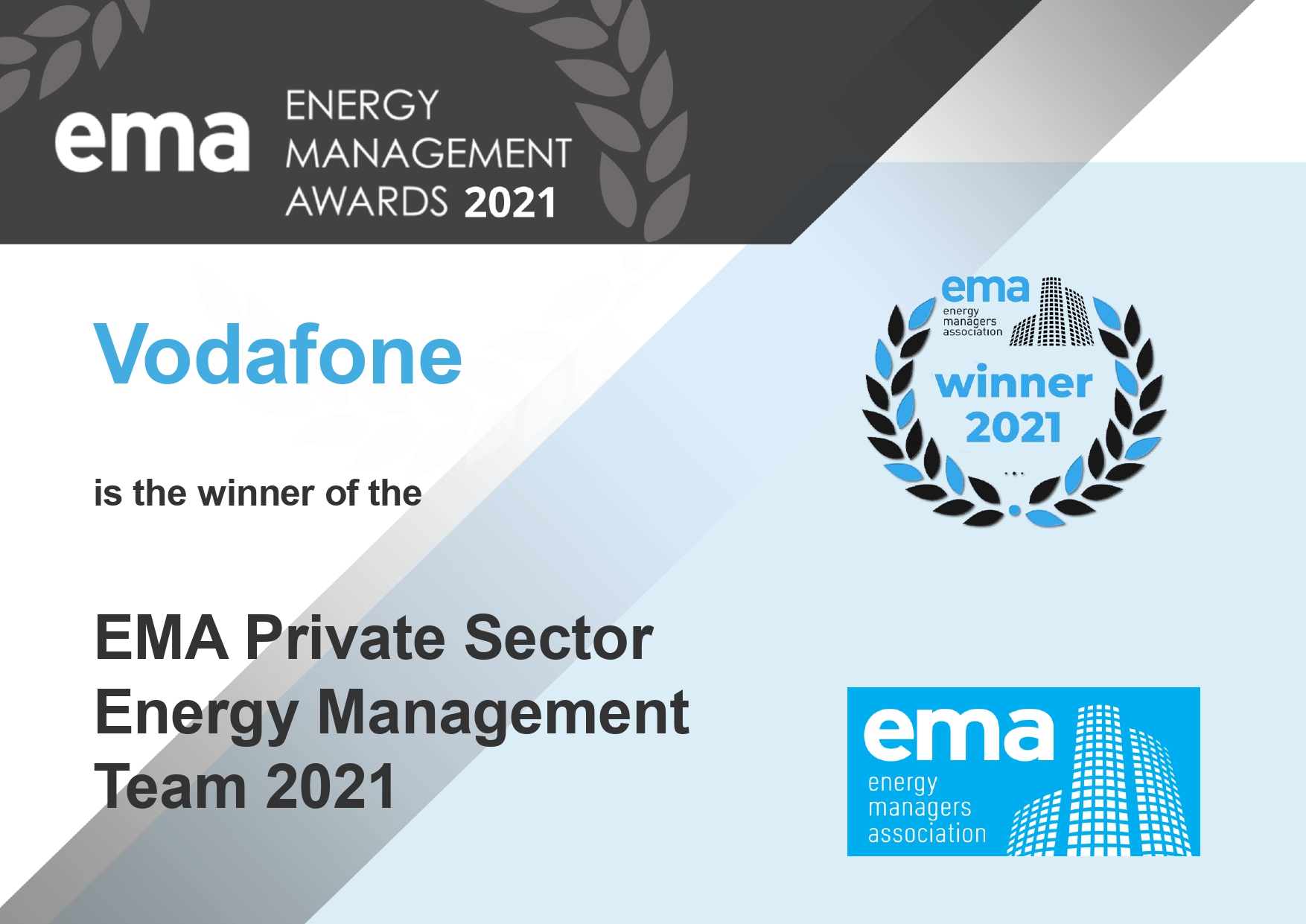 Energy Management Team 2021 - Private Sector
Networks Energy Team – Vodafone
The Networks Energy Team at Vodafone led by John Teasdale is responsible for energy and carbon management for Vodafone's UK Network. The versatile and experienced team is made of the Energy Management team led by Suki Gilliland comprising of Beatriz Valdes, Ollie Cramer, Gabriele Gessani and James Butterworth, and Energy Technical Innovation provided by James Feeney.
Vodafone's network estate ranges from large data centres, fixed transmission sites, to over 11,000 radio base stations which provide vital connectivity to its customers. The networks energy team ensure energy management best practice is implemented across the network.
Since the team was formed three years ago, it has grown and made significant changes in the way Vodafone manages its energy and carbon as business. Key achievements have been certifying Vodafone's core technical sites to ISO 50001 standard with the remainder of the technical estate planned in the coming years. In July 2021, the team ensured Vodafone achieved 100% renewable electricity supply for its UK network, an important part of its net zero journey. Other key projects include site rationalisation that removed over 15,000 tonnes of CO2 from the network, as well as innovative on-site renewables installations.
Energy Management Team 2021 - Public Sector
Energy Management Team - 29 Regiment, Royal Logistic Corps
29 Regiment, Royal Logistic Corps is based at Duke of Gloucester Barracks, South Cerney, Gloucestershire. The unit's primary role is to provide movement control and postal and courier capabilities for the UK Armed Forces around the world. The site has been occupied by the military since 1937 and comprises an estate of older and newer buildings.
With such a mixed estate and diverse portfolio of stakeholders' teamwork, awareness and getting core parties consistently involved in the site's strategic energy saving projects has been key since 2010, engendered in our ethos of "One Station, One Team and One Family." The Energy Management Team comprises all stakeholders, including Service Personnel, Defence Infrastructure Organisation (DIO), Defence Government Services and the Army Basing & Infrastructure, as well as industry Partners.
For the team to be recognised by the Energy Managers Association Board of Directors as the Team of the Year (Public) is a wonderful recognition of everyone's hard work. We remain at the forefront of embracing new opportunities, seeking innovative solutions to prepare ourselves for the future. We hope that our sustainability and energy management story will inspire others throughout Defence.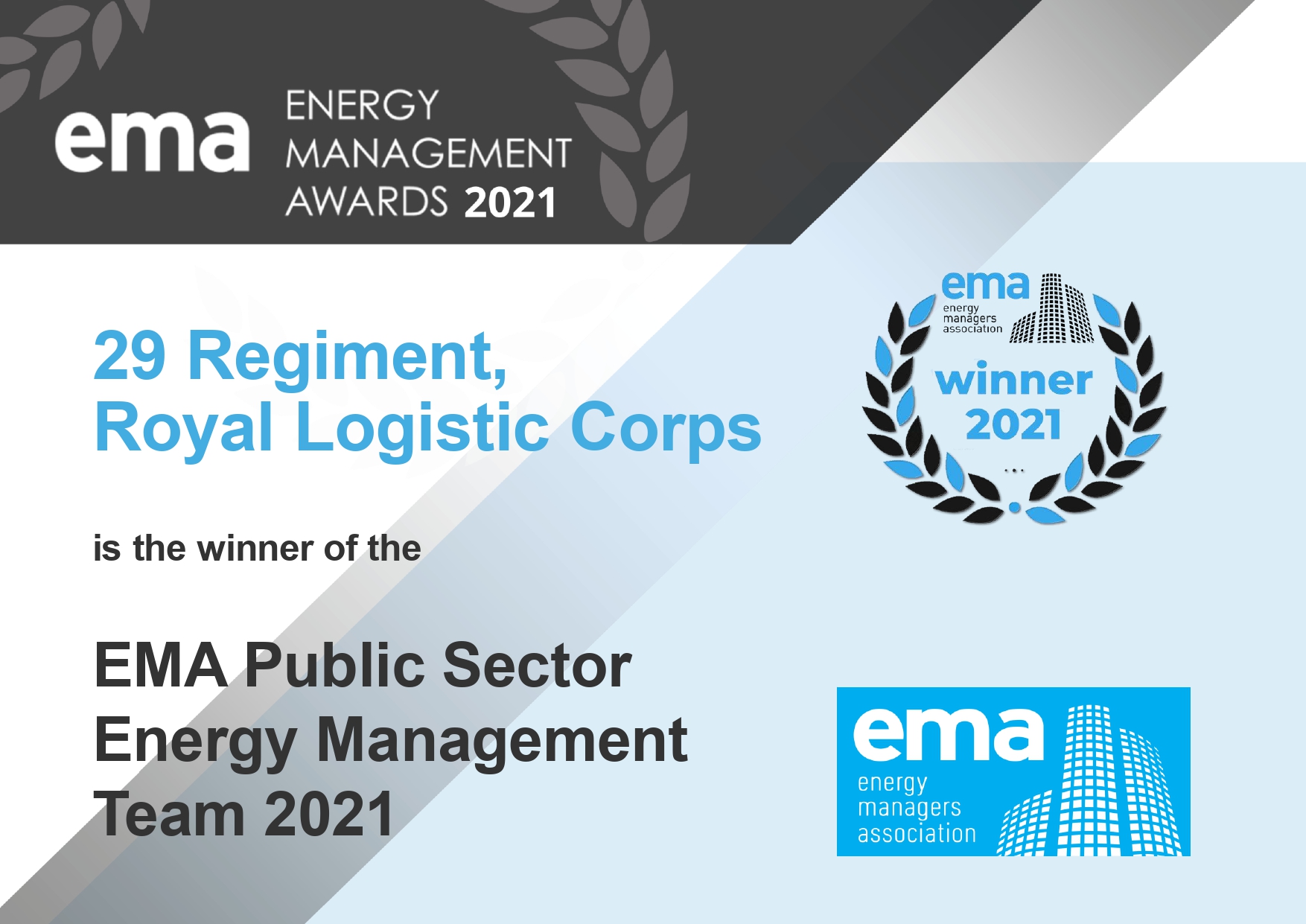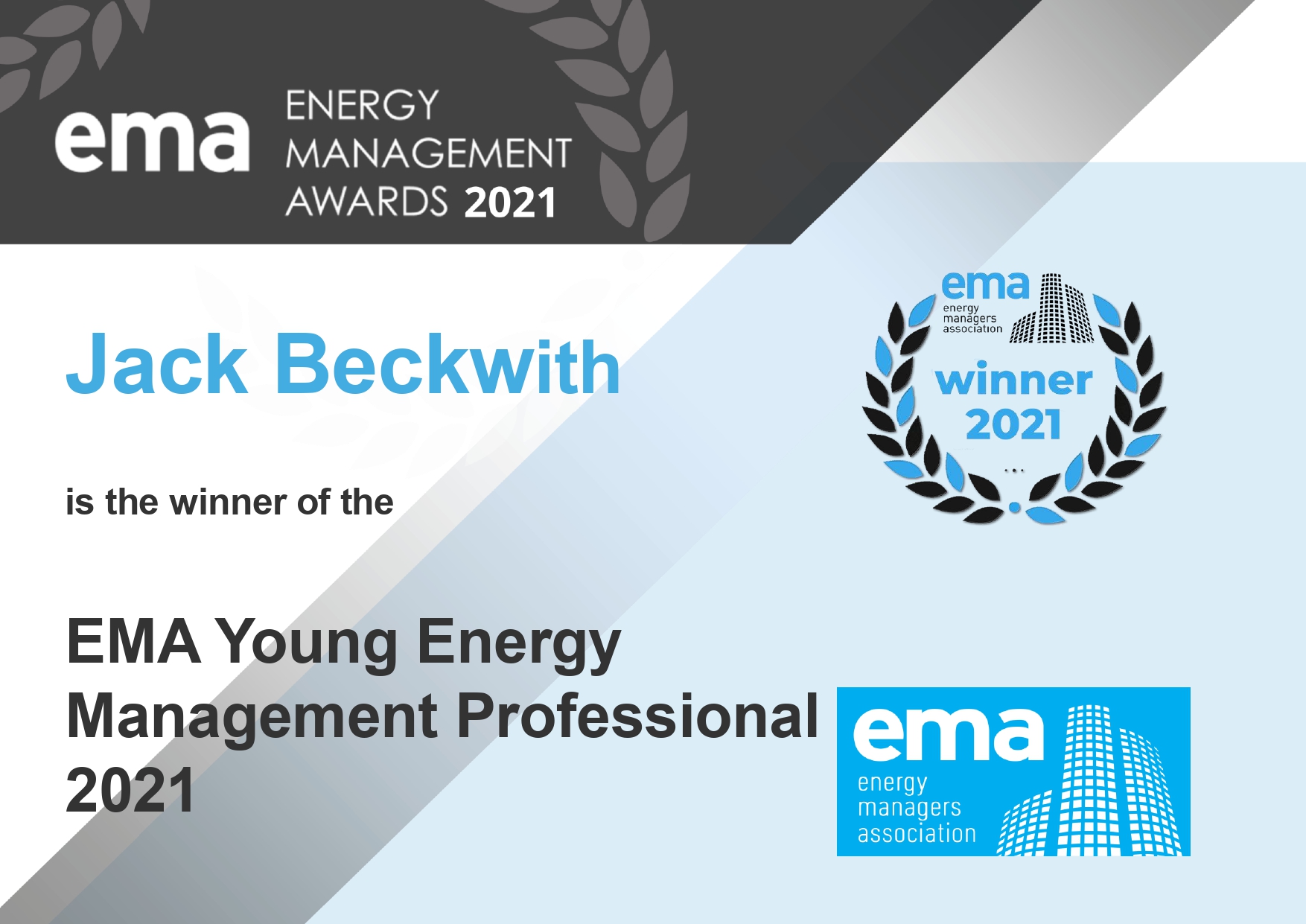 Young Energy Management Professional 2021
Jack Beckwith - Environmental Officer - believe housing
Jack is the Environmental Officer for believe housing, a social housing association based in County Durham in North-East England. His role covers everything "green". On the environmental side, he has been involved in getting trees and wildflowers planted, and wildlife habitats created. He is also involved in sustainable transport, recycling, and upskilling the staff on environmental issues. However, the focus of his role is looking at the association's circa 18,000 homes that range from the remote dales to the North Sea coast via the historic city of Durham. He is involved in getting technology installed into properties – solar PV panels, air source heat pumps and smart home environmental sensors on a few schemes, testing the waters before rolling out the installations more widely.

Jack holds First Class Biology degree from the University of Oxford and previously worked at Gentoo in a similar role as a Sustainability Officer. Prior to that he worked as a Neighbourhood Planner, with social, economic and environmental appraisals of social housing, as well as purchasing 100 houses from the open market.

Net Zero Strategy 2021
University of Reading - Net Zero Carbon Plan
University of Reading has set an ambitious target to reach Net Zero Carbon emissions by 2030. This covers a broad scope of emissions, including all scope 1 and 2 as well as business travel, waste, water and electricity transmission and distribution, and has committed to explore and target reductions in its wider carbon footprint too. Its Net Zero Strategy sets out a clear delivery pathway, including 3-year interim targets to be able to assess progress and ensure it remains on track.
The University has a long track record of delivering on its sustainability targets, meeting its 35% and 45% carbon reduction targets for 2016 and 2021 respectively, as well as recently meeting its 60% recycling target. Reading's teaching and research strengths include Agriculture, Construction Management and Meteorology and its current Strategic Plan identifies sustainability as one of its 4 key principles, aspiring to be recognised as a leader in sustainability at a global level. The University had the most lead authors of any institution worldwide in the most recent IPCC 6th Assessment Report and is home of the Climate Stripes, developed by Professor Ed Hawkins, which have captured global imaginations for their striking representation of rising local and global temperatures.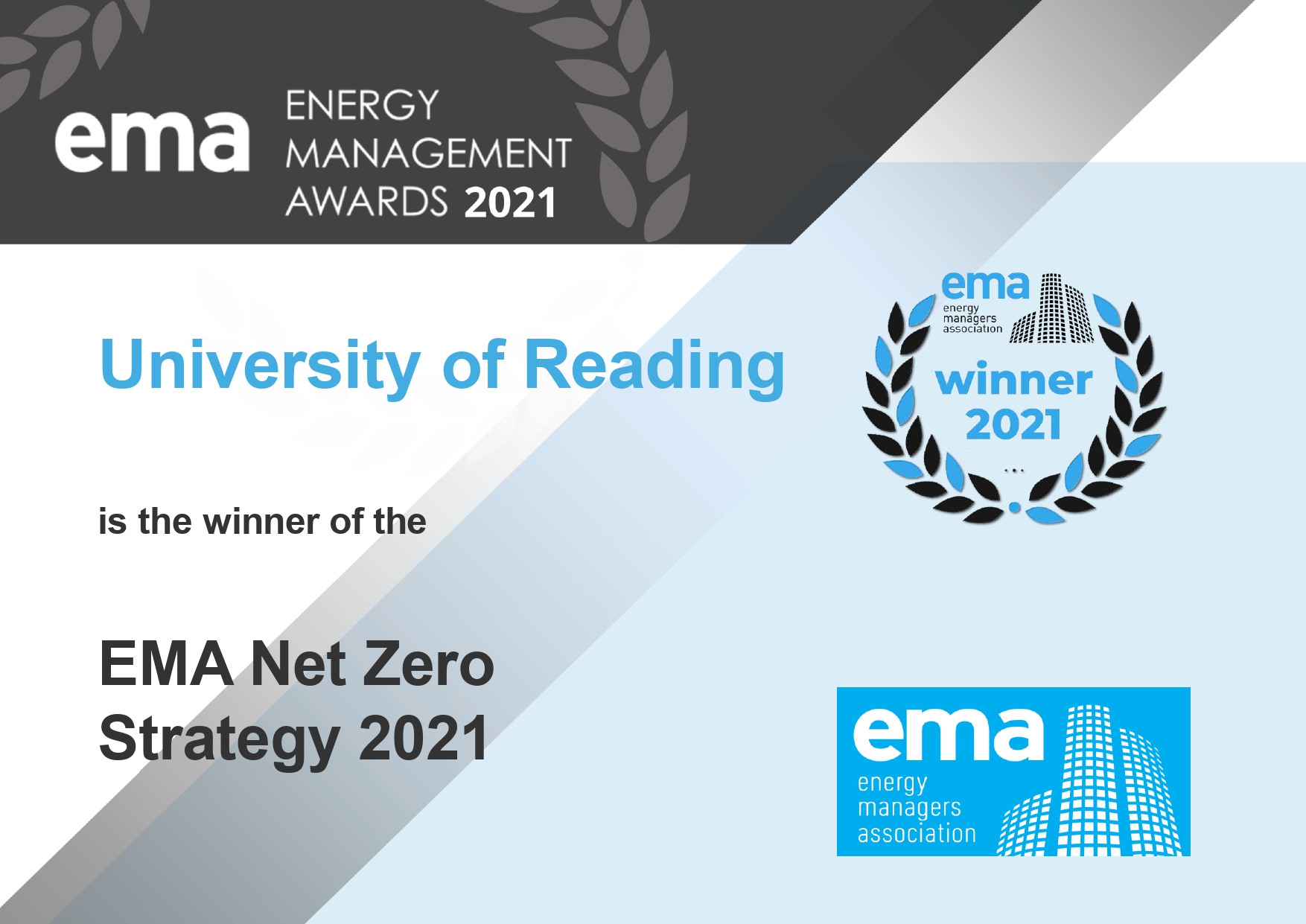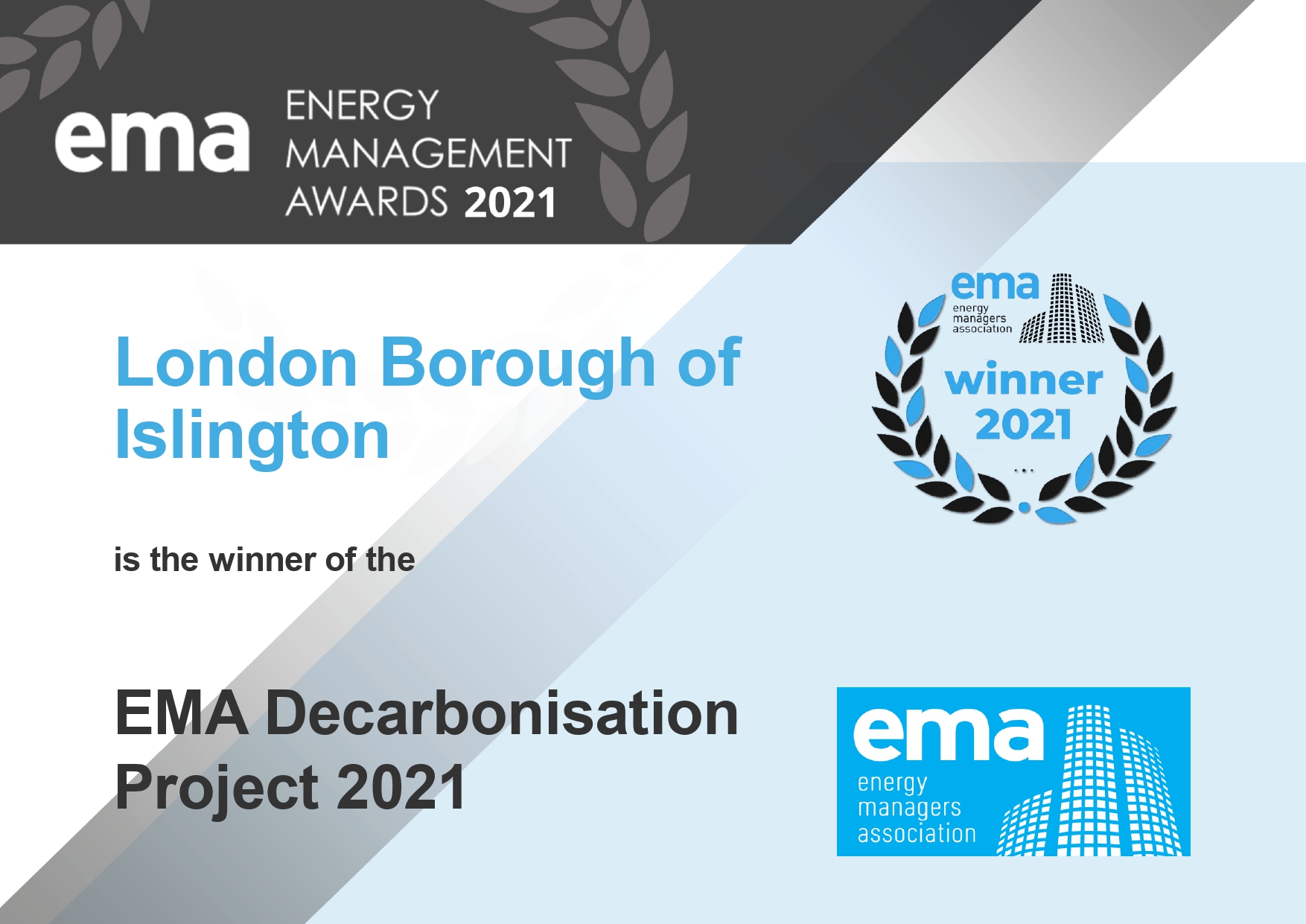 Decarbonisation Project 2021
London Borough of Islington - Bunhill 2 Project
The Bunhill Phase 2 project is an extension of the existing Bunhill Heat and Power Network which has been providing heat to surrounding homes since 2012. Construction of a second Energy Centre was completed in 2019 under Phase 2 of the project. Built on the site of a disused Tube station and London Underground ventilation shaft, the new Bunhill 2 Energy Centre was designed to capture waste heat from the Tube tunnels below, to supply cheaper, greener heat to 550 additional homes and a nearby school. It is expected to reduce carbon emissions by approximately 1200 tonnes per year.
The first phase of the Bunhill network was a bespoke Energy Centre, supplying heat and hot water to more than 800 local homes and two community leisure centres. The success of this initial phase encouraged the council to expand the network to supply 550 more homes and a local school, as well as to create spare capacity for more connections to be added. The first project of its kind in the world, Bunhill Phase 2 was conceived in partnership with TfL to extend the network to help reduce fuel poverty in the borough, and provide cleaner, greener energy to the local community.

Energy Management Consultancy Partnership 2021
Leisure Energy Limited - Ashford Borough Council - Freedom Leisure
Leisure Energy is a unique Energy Consultancy in that we only work in the leisure sector. We work with leisure operators, charitable trusts and local authorities to decrease the energy cost and carbon footprint of the Leisure Centres. For local authorities, these will be some of the most carbon intensive buildings in their portfolio. As the centres have been built, extended and modified over the last several decades, it means that no two leisure centres are alike and subsequently a fully bespoke energy audit is always completed. Unusually, for an energy consultancy, we then project manage the installation of the recommendations as both Principal Designer and Principal Contractor. This means the clients receive a one stop shop for all of their energy projects.
Freedom Leisure is a not-for-profit leisure trust which manages 110 leisure and cultural facilities on behalf of 26 local authorities across the UK to realise their vision of "improving lives through leisure". They are proud to be delivering high quality, locally-focussed services and are committed to their ongoing development. As a not-for-profit organisation all surpluses are reinvested in support of the objectives that they share with their partners.
Ashford Borough Council is a local government borough in the county of Kent. They provide services to Ashford, Tenterden and surrounding villages. Stour Leisure Centre is located in Ashford and managed on their behalf by Freedom Leisure.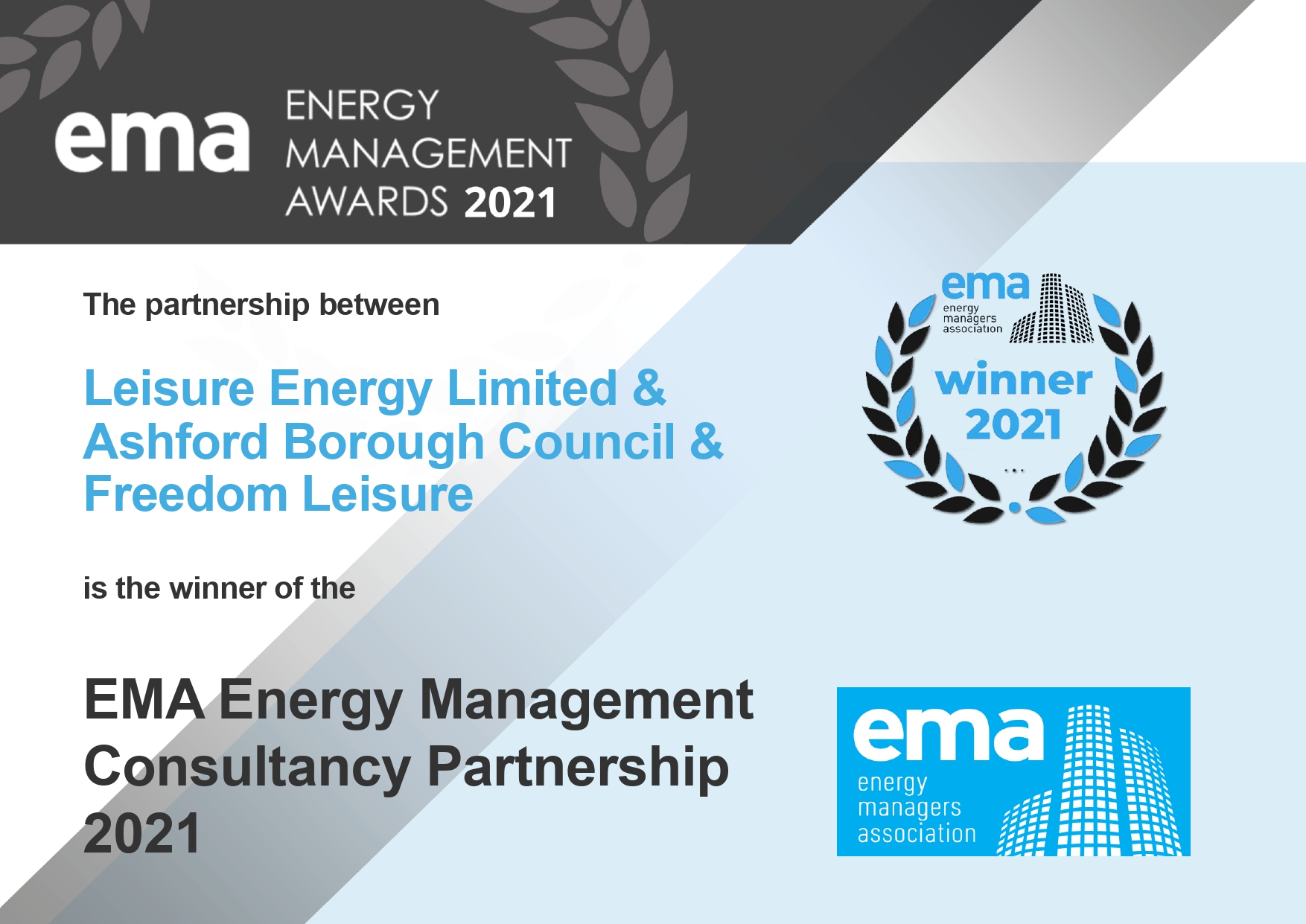 The 2021 Highly Commended in the following categories are:
Young Energy Management Professional: 
Faye Hargreaves - Sustainability Coordinator - Oracle
Energy Management Team (Private Sector): 
Energy Management Team - Muntons
Energy Management Team (Public Sector): 
Energy Services Team - Portsmouth City Council
Net Zero Strategy: 
Blenheim - Roadmap to Net Zero
Decarbonisation Project: 
University of West London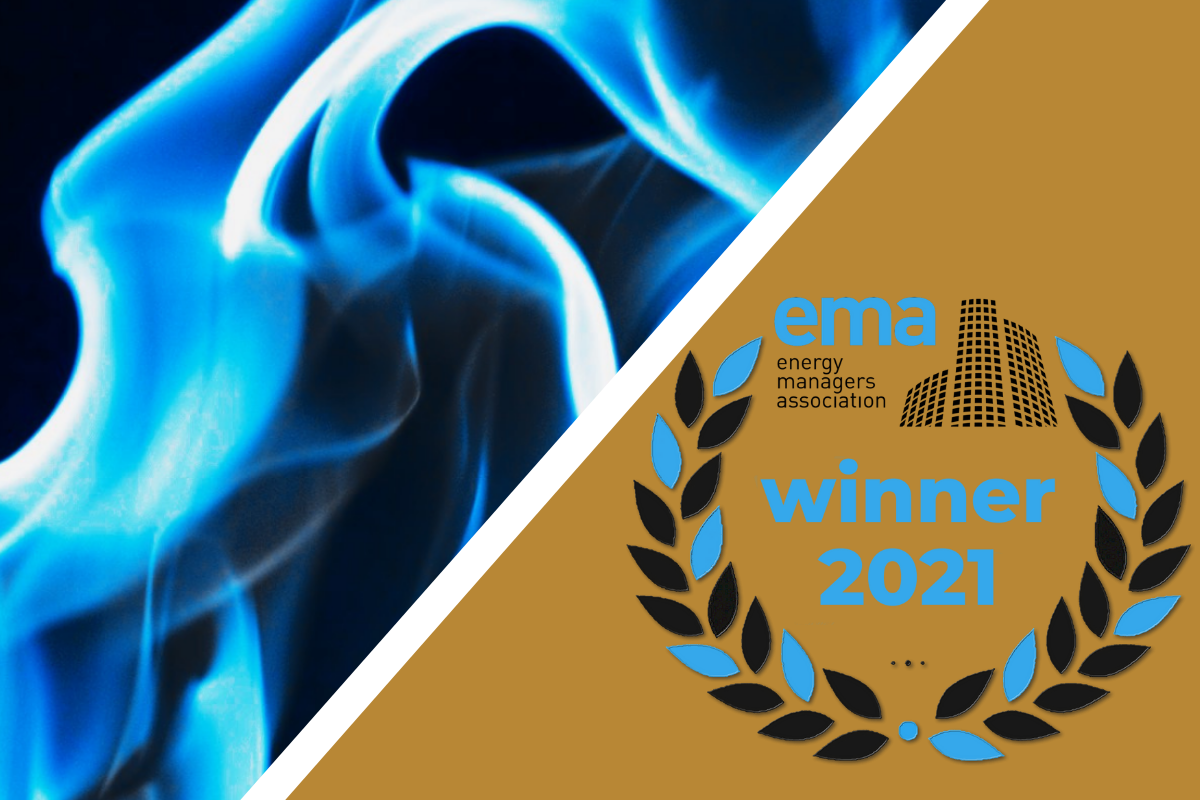 The 2021 winners demonstrated an incredible dedication, resilience and can-do attitude which are required for driving energy efficiency in their organisations and achieving the UK's Net Zero targets.
The EMA recognises that in order to achieve these ambitious targets a combination of skills, experience and knowledge is required, and those leading in these areas are portrayed by the winners of the EMA Energy Management Awards every year.
Congratulations to all our 2021 Winners and Highly Commended.
ENTRIES FOR THE
EMA ENERGY MANAGEMENT AWARDS 2022
WILL OPEN IN JUNE.