EMA Energy Management Awards
Recognising and Rewarding Excellence in the Energy Management Industry
The WINNERS of the EMA Energy Management Awards 2020 are:
Energy Manager 2020 - Private Sector
Ian O'Connor – Energy Manager - John Sisk & Son 
Ian is a driven engineer, passionate about sustainability with industry leading experience in the field of energy management, particularly in relation to construction services. As Sisk Group Energy Manager, Ian is responsible for developing a three-year Energy Management Strategy for the business and ensuring its successful implementation across Sisk operations. Ian developed an Energy Management Procedure bespoke to the business and pioneering in the construction industry. This procedure targets the hurdles which previously prevented good energy management from being implemented. As a result, energy consumption decreased by 42%, scope 1 and 2 CO2 emissions decreased by 31%, and over €2.5m in energy costs were avoided in 2019.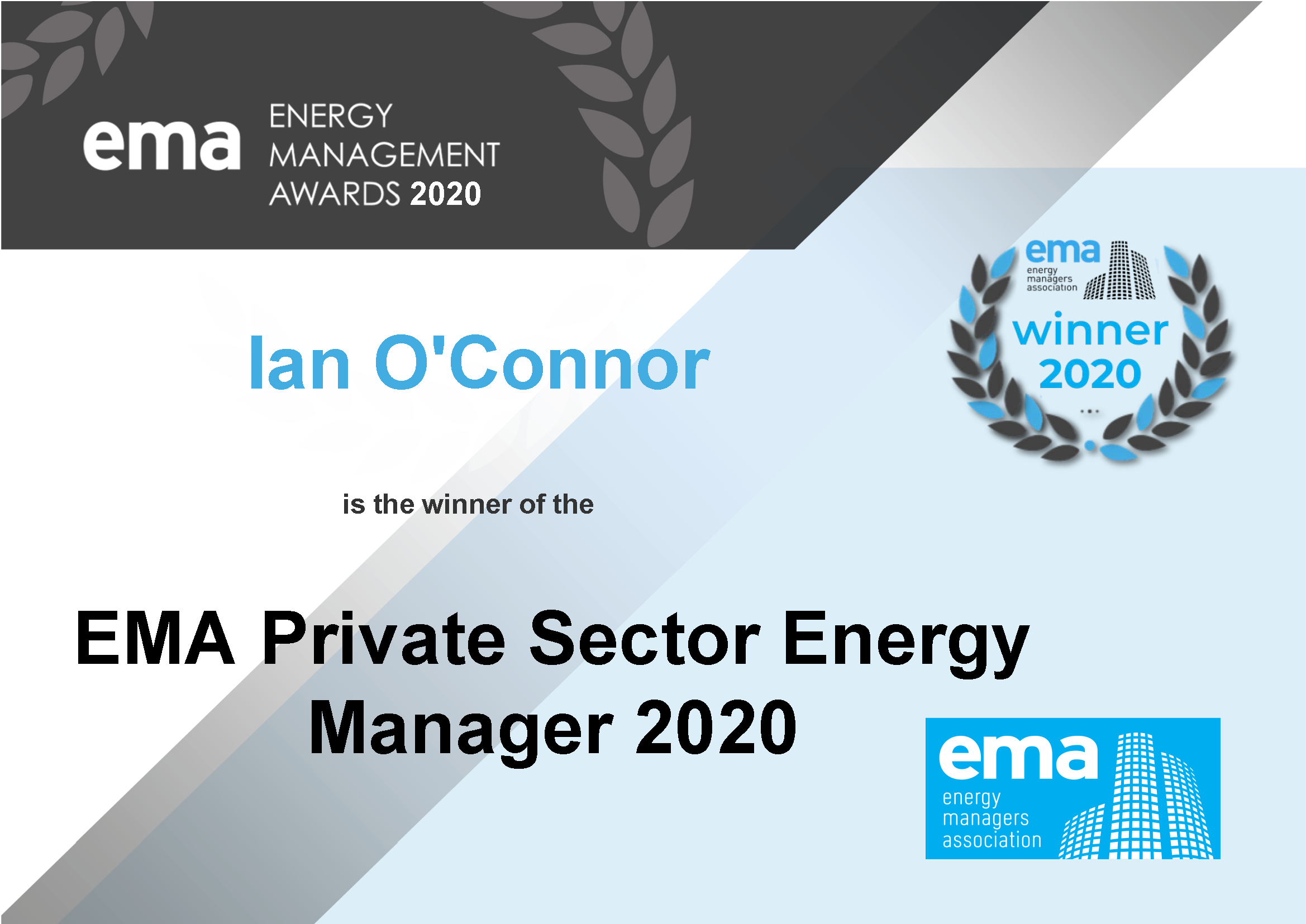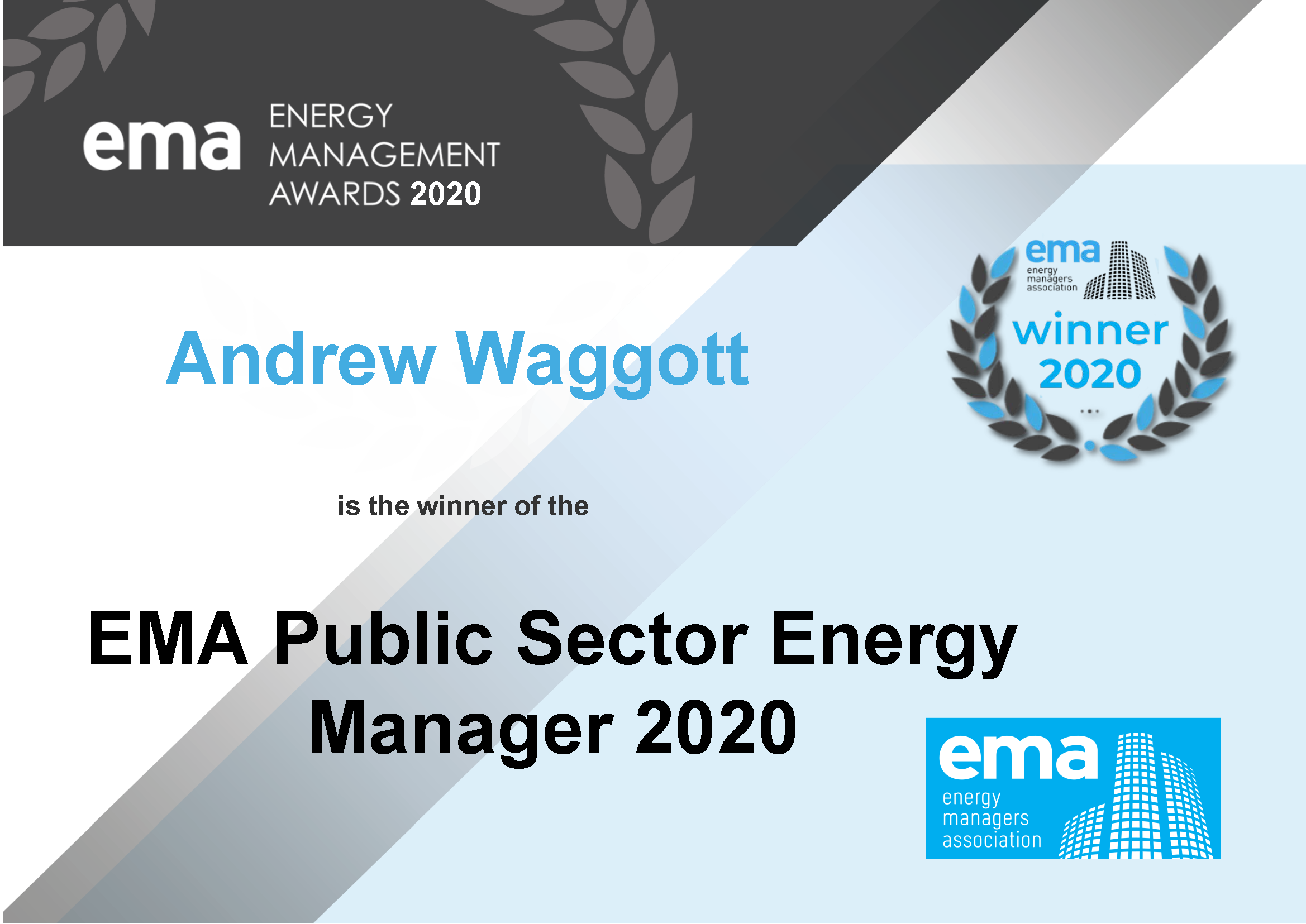 Energy Manager 2020 - Public Sector
Andrew Waggott – Energy Services Team Manager - Portsmouth City Council
Andrew has over 8 years' experience of working in the energy management industry within a public sector organisation. Since 2016, he manages the Energy Services Team at Portsmouth City Council responsible for all energy services, which include energy efficiency and micro-generation capital projects, procurement and management of utilities and fuel poverty mitigation programmes across the Council's extensive and varied housing and corporate property portfolio. Under Andrew's management, the team has grown four-fold; expanding the scope and scale of their services and creating a graduate programme with the aim of training the next generation of energy management professionals. 
EMA Member 2020
Paul Graham - Utilities, Waste and Sustainability Manager - Kingston Hospital NHS Foundation Trust
Paul has been an energy manager for 3 years and has been employed by Kingston Hospital NHS Foundation Trust for 12 years. Equipped by the EMA's LEC 3 training programme, he leads the energy, waste, and sustainability agenda for the Trust as they serve the local population in South West London. He hopes to achieve meaningful carbon savings over the next five years by transforming the way the Trust is heated and powered as well as implementing smaller energy conservation measures.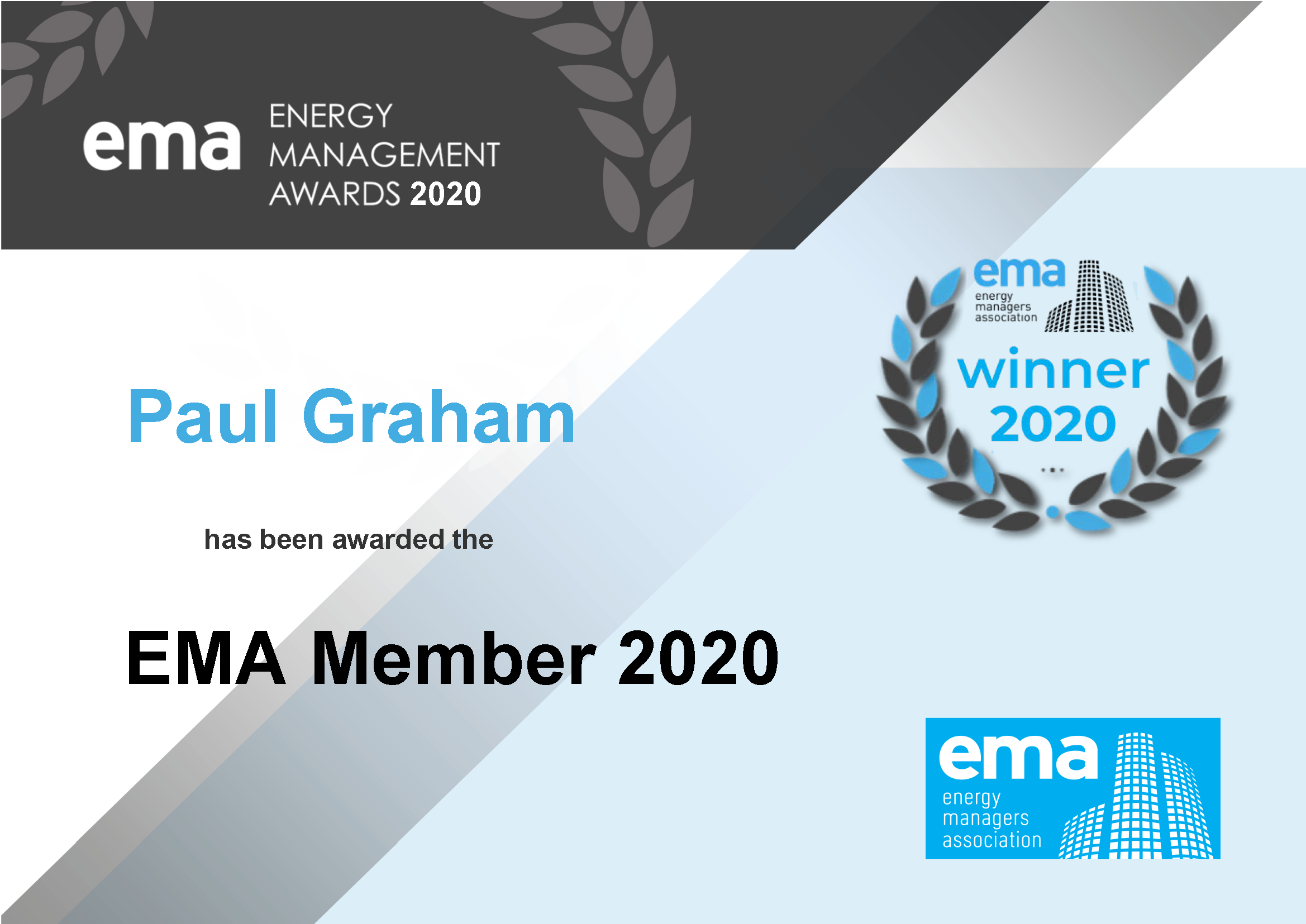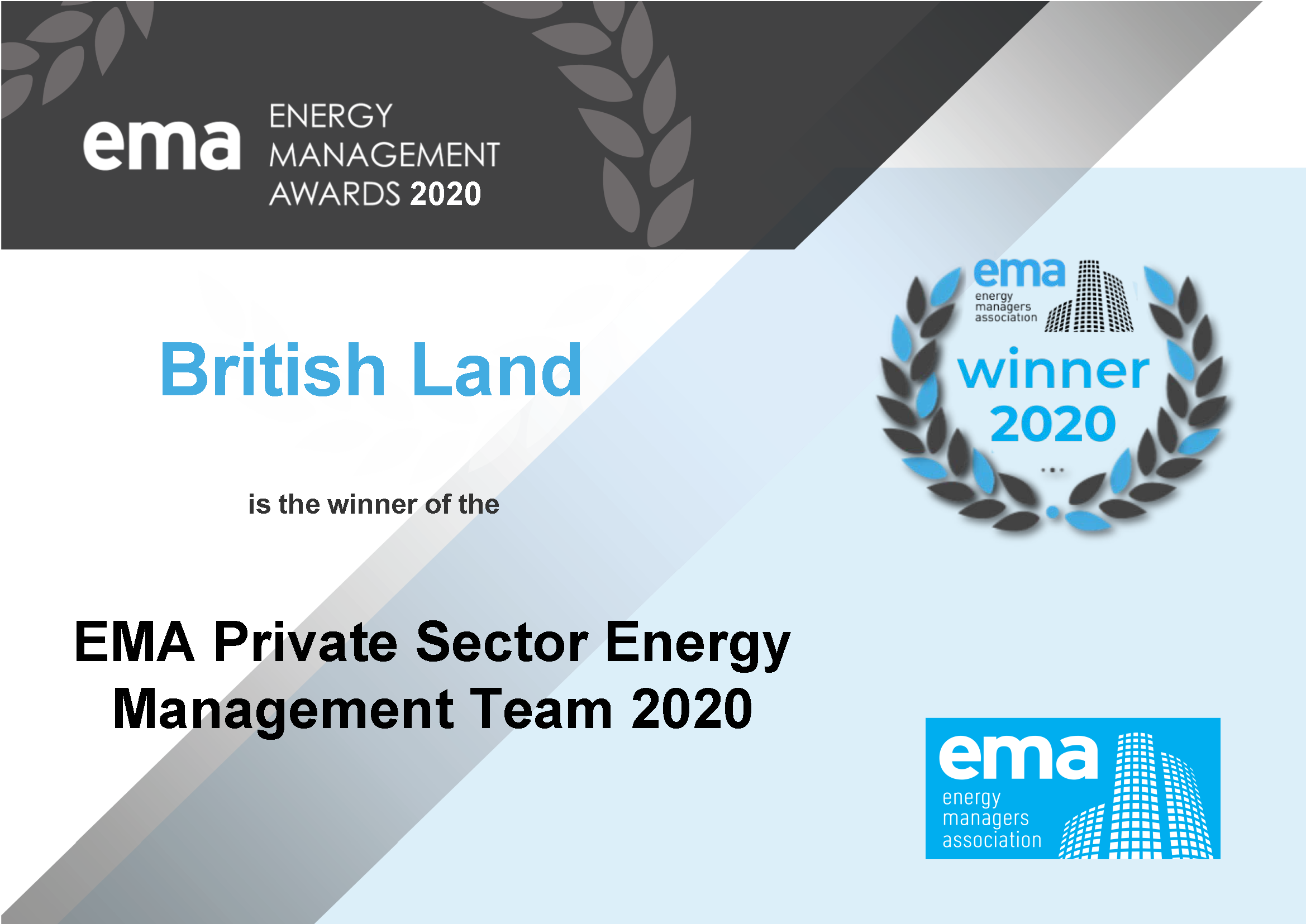 Energy Management Team 2020 - Private Sector
The Technical Services Team - British Land
The Technical Services Team is responsible for engineering performance across over 22 million sq ft of real estate. This year, they successfully reached their 2019/20 reduction target, achieving 55% landlord energy intensity savings for their organisation and its occupiers, which cut energy consumption by 175 million kWh. The team achieved its incredible performance through proactive day-to-day management, identifying and implementing projects to bring about step change, and by driving progress through technological and process innovation, working collaboratively with hundreds of stakeholders. This has contributed to a 73% reduction in carbon intensity across the portfolio since 2009.
Energy Management Team 2020 - Public Sector
The Energy Management Team - Gwynedd Council
The Energy Management Team works within the Housing and Property Department of Gwynedd Council. The team consists of the following members:
David Mark Lewis – Energy Manager; John Paul Ayling – Energy Officer – Data Management; Richard Williams - Energy Officer – Project Management and Glyn Roberts - Energy Officer – Awareness Raising/Data Management
The team is responsible for the day to day energy monitoring and energy conservation matters, planning and implementing projects as part of the Council's Carbon Management Plans as well as developing energy purchasing frameworks and the Gwynedd Energy Framework which is available to use by any public sector organisation.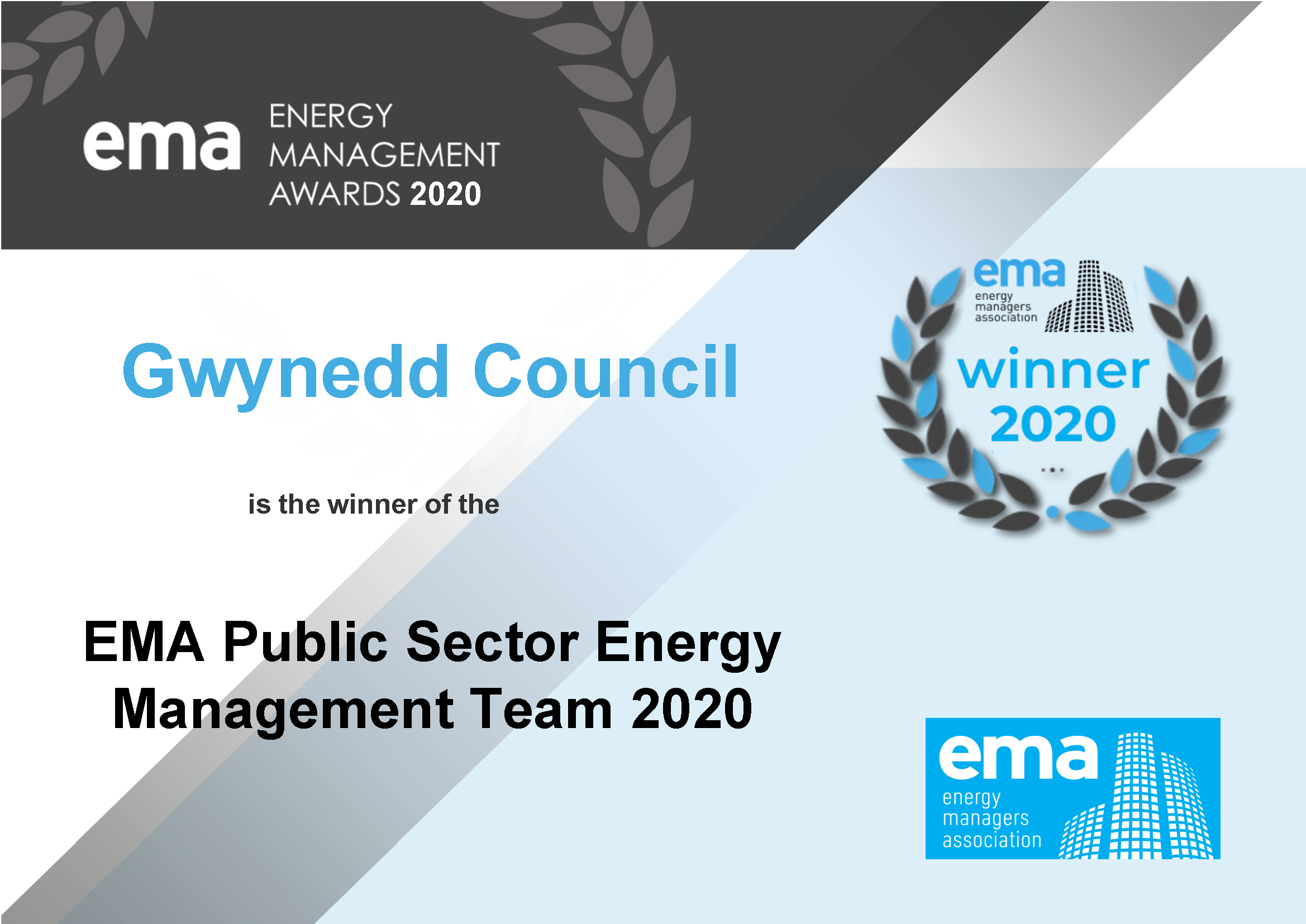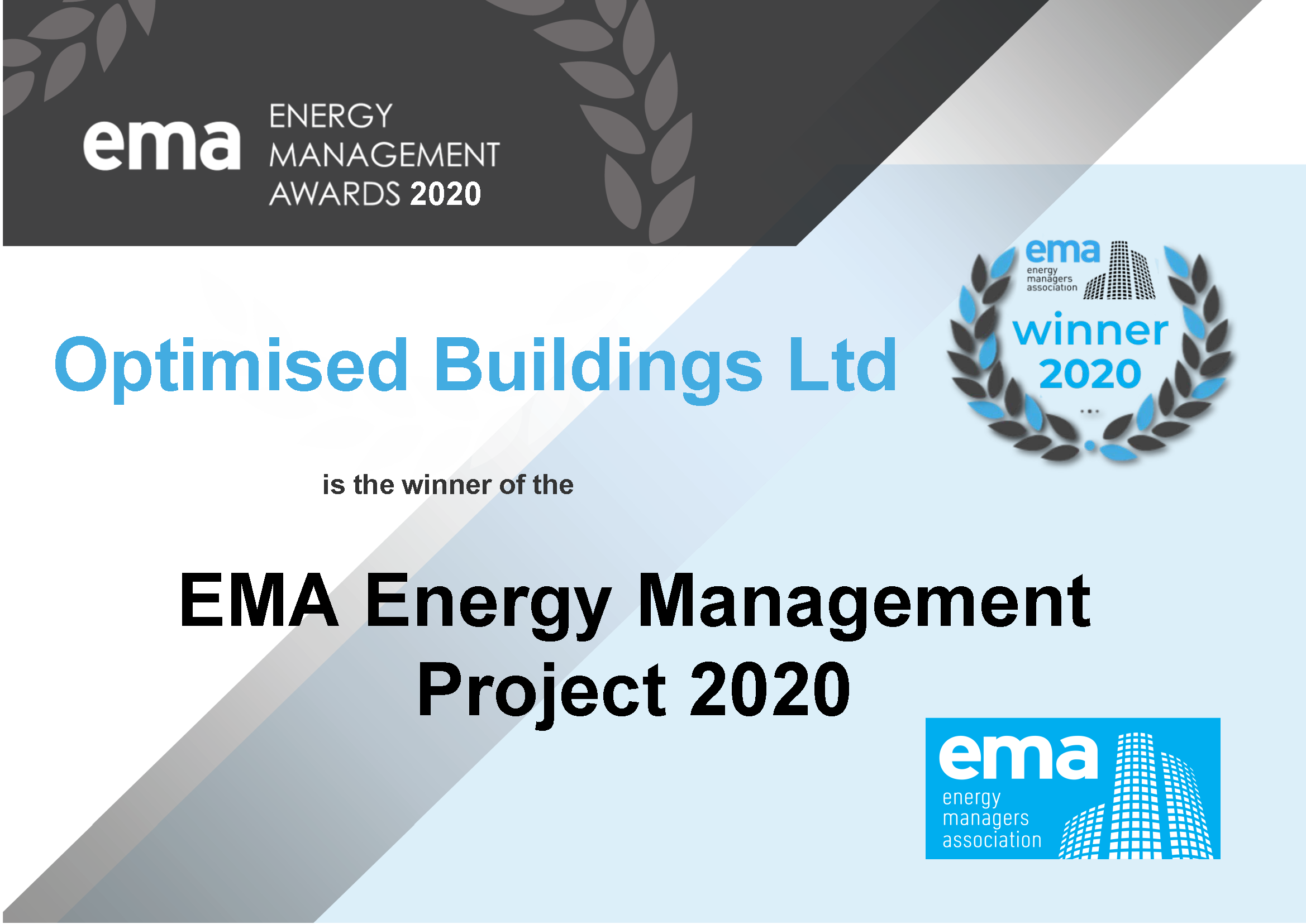 Energy Management Project 2020
Optimised Buildings Ltd
The Optimised Buildings Morrison's project began back in 2018, initially on a 6-month programme, in order to maximise energy savings from existing assets (specifically the BeMS and HVAC). This was soon taken over by our '24/7 Optimised Bureau' managed service, remotely monitoring performance of 496 stores HVAC, BeMS and lighting, to ensure continuous operational efficiency. In addition to consistent, year on year savings.
Optimised Buildings (part of the Optimised Group) is an award-winning, energy management company, providing a market-leading solution / service that typically delivers an 8-10% total energy reduction to business customers with minimal capital expenditure and a typical ROI of less than 12 months.
Energy Management Consultancy Partnership 2020
University of Glasgow and Integrated Environmental Solutions
The University of Glasgow and IES Ltd partnership started in early 2019 when IES were engaged through the University's Smart Campus Working Group to develop a digital twin of three of the most intensely used student buildings. Working in partnership is paramount when developing a digital twin as the University's team are experts in their buildings and the electronic systems used to control these, whilst IES provide building modelling and twinning expertise and the systems to allow the enhanced interrogation for the production of useful and useable results. The Digital Twin is a living system and will require consistent and continued development, therefore a strong partnership is important to ensure full benefits can be realised both now and in the future.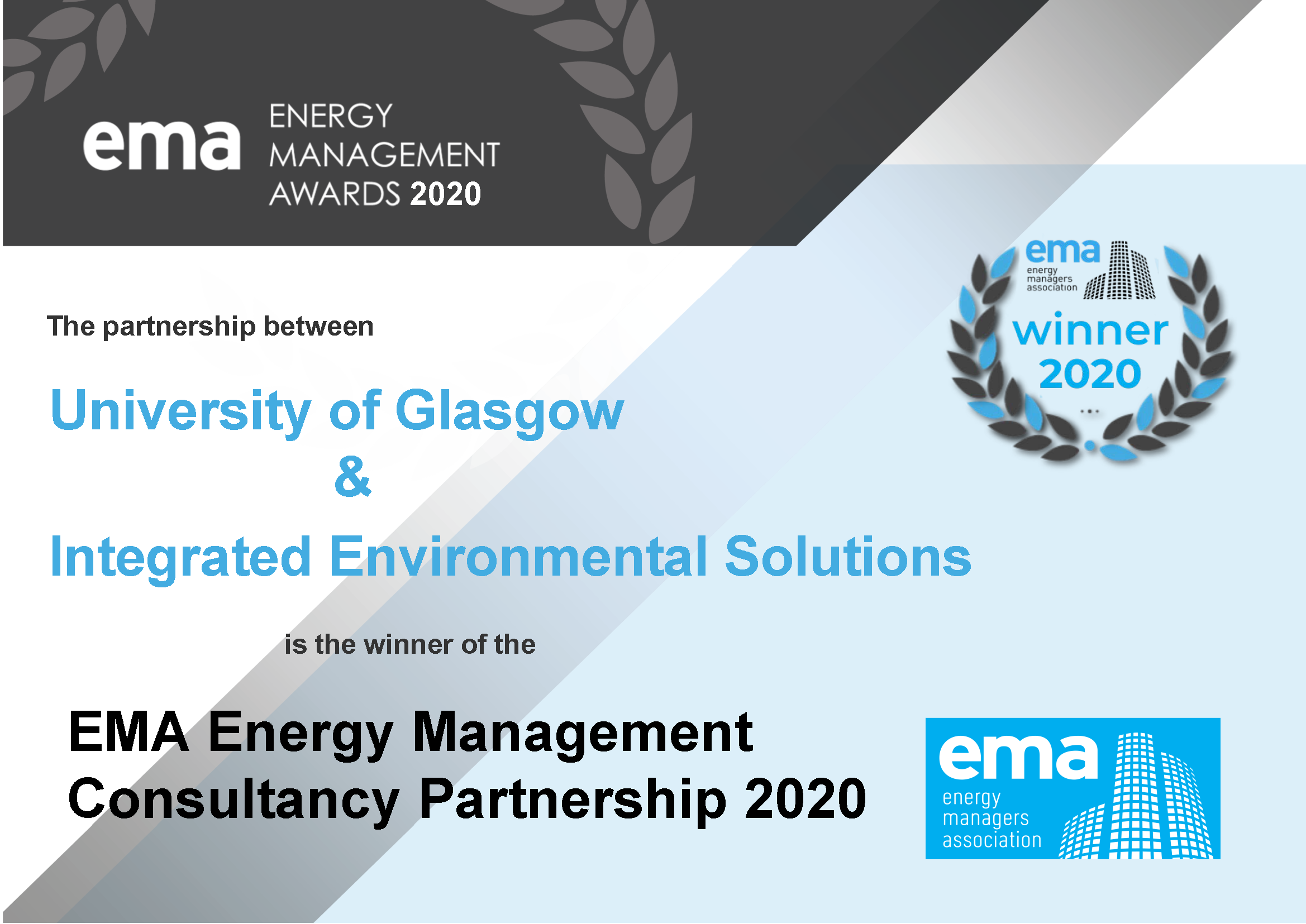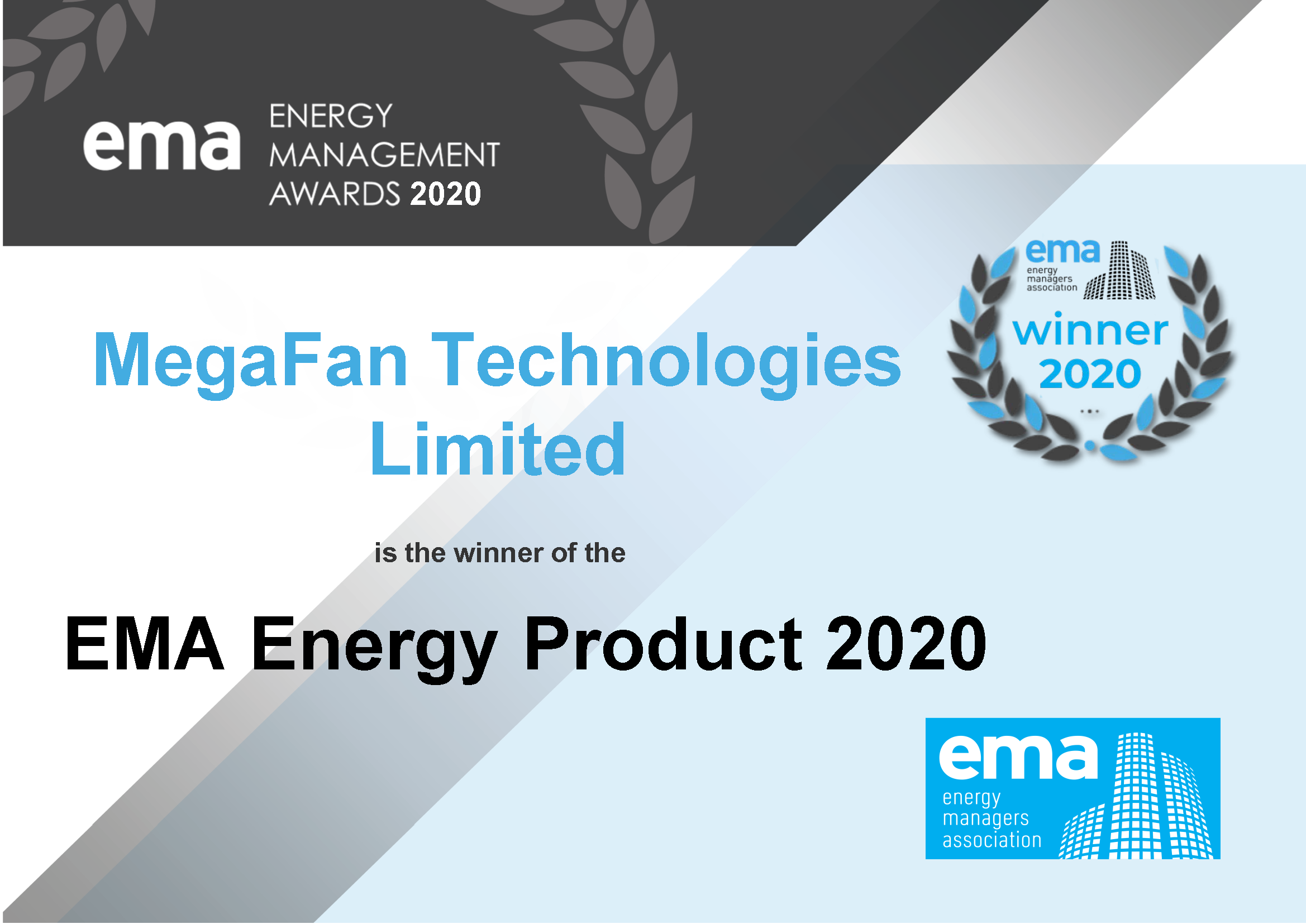 Energy Product 2020
MegaFan Technologies Limited - Megafan High Volume Low Speed Fans
MegaFan Technologies provide natural evaporative cooling, and thermal destratification in any large facility, for clients who would like better temperature control of their indoor environment. During both warmer, and the colder months of the year. With independent studies proving reductions in heating consumption, by up to 45%, when using MegaFan, high volume low speed (HVLS) fans. By simply pushing the warmer air down to ground, which is normally trapped at the ceiling. You can even the temperature from floor to ceiling, whilst keeping clients and staff warmer, and reducing your heating consumption at the same time. During the summer months, the same solution will also create natural evaporative cooling over a 20,000 sq ft area with just one MegaFan.
Innovative Energy Product 2020
Zeigo for the Zeigo PPA Platform
Zeigo is a clean-tech platform that helps corporate energy buyers contract energy directly from wind and solar farms using data and technology to cut through the complexities of clean power procurement. It tackles some of the most significant barriers that block market access, lack of price transparency, limited market visibility, the complex legal process, amongst others.
It also uses smart technology to help companies find the best zero-carbon match for their energy consumption profile. Zeigo also works with the most reputable developers globally (100+), giving them a route to market and helping them to understand corporate procurement trends. Zeigo is fast becoming the platform to source renewable energy across the world.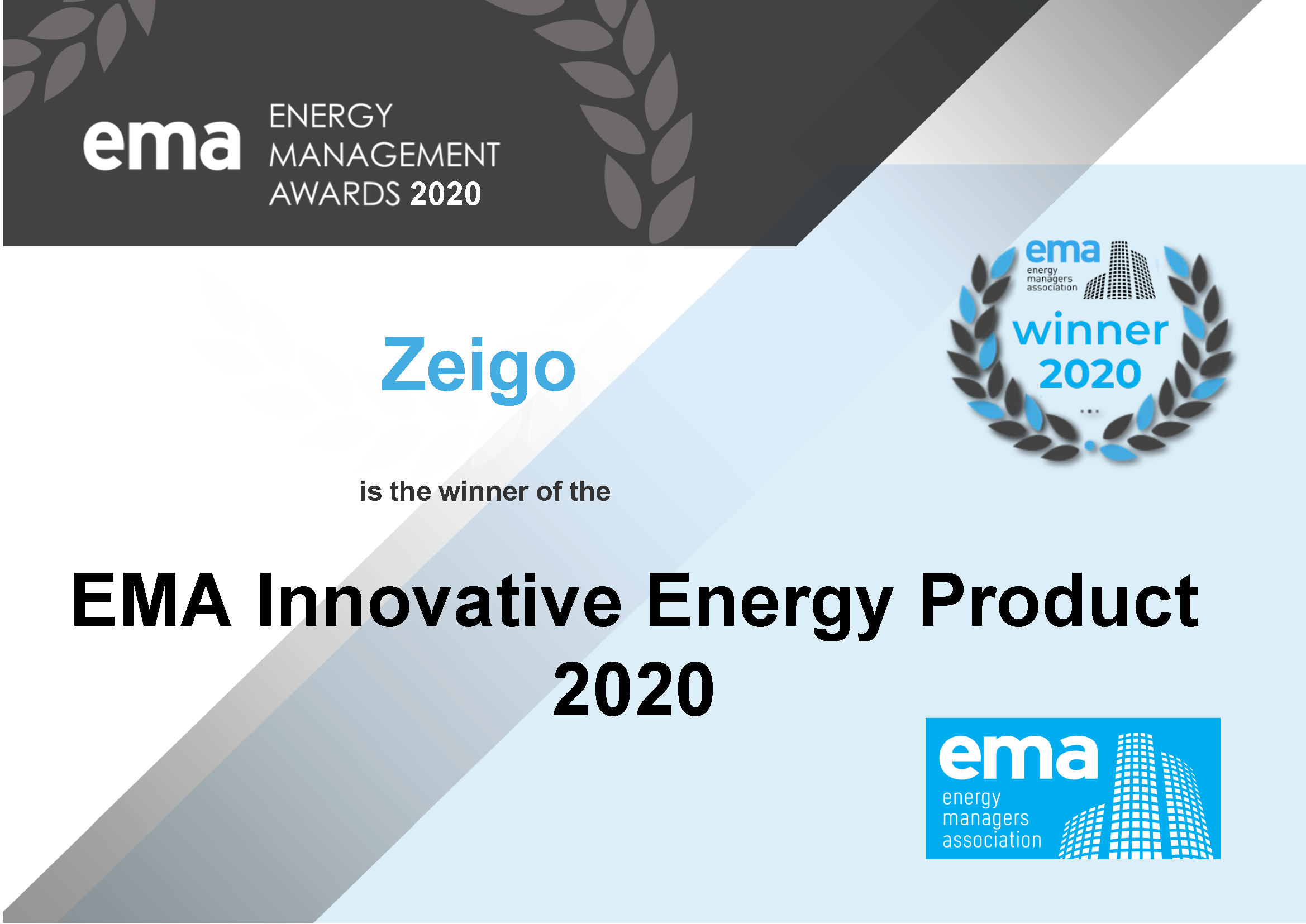 The 2020 Highly Commended in the following categories are: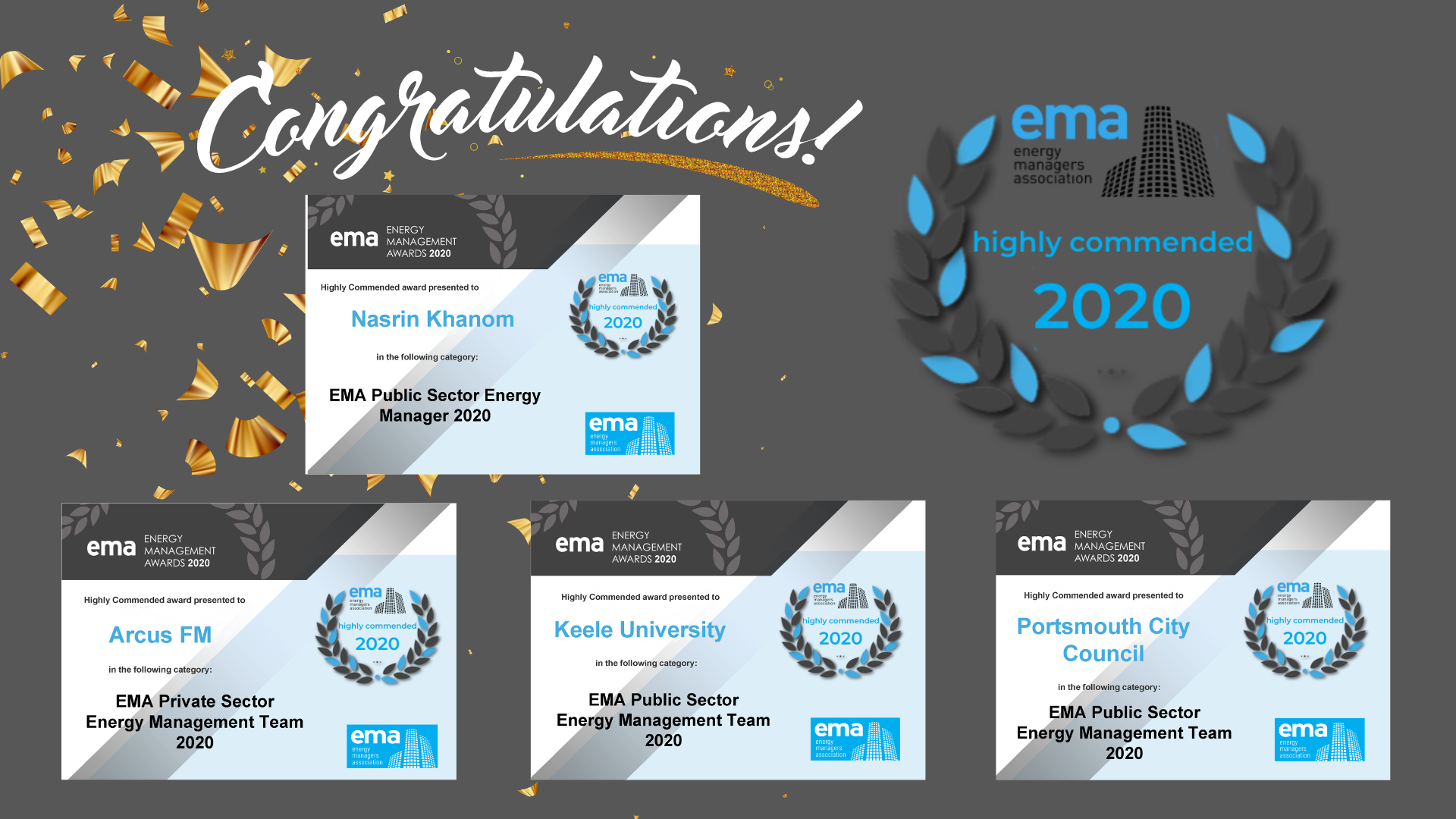 Energy Manager (Public Sector) of the Year:
Nasrin Khanom – Environment and Sustainability Manager - University of West London
Energy Management Team (Private Sector) of the Year:
The SMaRT Hub Energy Team at Arcus FM
Energy Management Team (Public Sector) of the Year:
The Estates Planning Team at Keele University
The Energy Services Team at Portsmouth City Council
The 2020 winners demonstrated an incredible dedication, resilience and can-do attitude which is required for driving energy efficiency in their organisations and achieving the UK's Net Zero targets. 
The EMA recognises that in order to achieve these ambitious targets a combination of skills, experience and knowledge is required, and those leading in these areas are portrayed by the winners of the EMA Energy Management Awards every year.
Congratulations to all our 2020 Winners and Highly Commended.